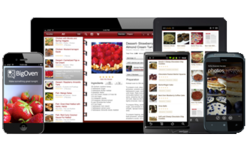 Menus are like playlists for food.
Seattle, Washington (PRWEB) November 05, 2012
Just in time for the busy holiday entertaining season, BigOven's highly popular free cooking apps for iPhone, iPad and Android now include complete menus for special occasions and everyday meals. Home cooks can now create, share and discover new menus on the web, or on their mobile devices right in the kitchen, at the grocery store, on vacation – anywhere. Menus can be instantly added to sorted grocery lists or the menu planning calendar. In recent months, BigOven has passed 7 million downloads, 250,000 public recipes and 1.6 million members.
BigOven takes recipe organization to a whole new level with single and multi-day menus, allowing home cooks to remember and share culinary insights that certain recipes taste great together, along with notes for simple sides and beverages. Cooks can also get inspired by the menus from other cooks, and categorize them to easily view and re-use in a growing, shared archive.
Cooks will get inspired by browsing hundreds of appealing menus for any occasion, including holiday meals (Thanksgiving, Christmas and more), cocktail parties, casual BBQs, brunch, or just a week of quick kid-friendly dinners. Some menus even include ideas for transforming leftovers from one day into a brand new dish on another day, helping to save cooking time and reduce food waste.
Cooks can share menus with family and friends via Pinterest, Facebook, Twitter, and email, when planning extended family dinners, potlucks and other events. Shared menus can also be helpful when accommodating special diets and allergies.
Menus can be added to dates on BigOven's calendar-based drag-and-drop menu planner, allowing cooks to plan ahead and avoid being stuck wondering what to make. They can be added in one click to a sorted grocery list that groups all the ingredients by aisle, saving time at the grocery store. Menus are flexible and can be easily adjusted by swapping in different recipes if desired.
Cooks can add any of BigOven's 250,000+ recipes to a menu, plus add their own personal recipes too. BigOven Pro members ($19.99/year) can add recipes from the web to BigOven privately just by pasting the URL on iPad and BigOven.com, or install a browser bookmarklet to save recipes to BigOven instantly.
Paper recipes can be added to menus via BigOven's innovative RecipeScan. Cooks just snap pics of Grandma's best recipes, cookbook favorites, or any handwritten or typed paper recipes. BigOven does all the work to type them as private and fully portable, scalable, searchable, categorized recipes with detailed nutrition info – ready to add to menus and more. BigOven Pro members receive 25 free RecipeScan credits, and can purchase more for $.59 each.
BigOven Pro members can add complete menus directly to a grocery list that instantly sorts needed ingredients by aisle. Items can be checked off on the list while shopping to ensure nothing is forgotten, saving time and money at the store.
"BigOven is an antidote to the stress surrounding holiday menu-planning. With a few clicks, any cook can plan a whole week's worth of meals, drop it onto a calendar, and get a ready-to-go grocery list that's already sorted by aisle", says Steve Murch, BigOven's founder and head chef. "Cooks can rate menus that have been posted by others, and share their own tips and ideas."
Menus are available for free on the web at http://www.bigoven.com/menu, and in the latest version of BigOven's free apps for iPhone, iPad and Android.
BigOven is the ultimate kitchen tool that gets home cooks inspired and organized in the kitchen and on-the-go. With over 7 million downloads, BigOven's free 250,000+ Recipes and Grocery List apps are available for iPhone, iPad, Android, Android Tablet, Kindle Fire, Nook and Windows Phone. Listed in the iTunes App Store Food and Drink category Top 15, BigOven was also named Readers' Choice: Best Recipe App for 2011 and 2012 on About.com. BigOven has over 1.8 million members and was created by and for people who love to cook. Pro membership is optional for just $19.99/year, with a free trial available at http://www.bigoven.com/pro.