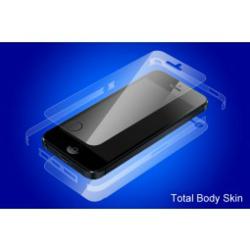 Westminster, Colorado (PRWEB) November 06, 2012
Best Skins Ever, the premier online retailer & manufacturer of clear protective skins & screen protectors for electronic devices, announce a successful release of their iPhone 5 skins.
A few days prior to Apple CEO Tim Cook's much-anticipated announcement of the new iPhone, Best Skins Ever began taking pre-orders of protective skins and screen protectors for the new device. The release of Apple's latest phone saw a surge in demand for accessories, and Best Skins Ever's latest in their series of iPhone skins delivered. As a result, the electronic accessories manufacturer and retailer saw one of the greatest transaction surges of any product available on their site.
"Another successful Apple release helped produce yet another successful Best Skins Ever release," CEO Michael Herring said. "Any time a new product comes out with such high anticipation and demand, we really feel the push in the accessories market."
The online manufacturer and retailer's line of iPhone skins and screen protectors made September by far their best selling month to date, with almost 90% more transactions than the monthly average in 2012.
The Colorado-based retailer topped its own records, selling 13% more iPhone 5 skins in its first month compared to last year's record-setting first-month sales of the iPhone 4 Skin.
With the busy holiday season coming, the online retailer and manufacturer looks forward to another successful Apple launch with a new line of iPad Skins and MacBook Skins on the horizon.
About Best Skins Ever:
Best Skins Ever, based out of Westminster, Colorado, provides scratch-proof protective skins, covers & screen protectors for smart phones, laptops, tablet computers, media devices and more. A company that both manufactures and sells transparent products also believes in doing business transparently.
Their four aspects of being a transparent company rely on their honesty – offering full disclosure on their products, reputation - among their loyal users, price - offering a fair price in their market and ease of use with product tutorials and step-by-step application directions.