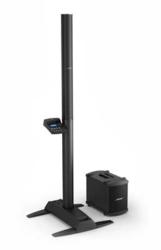 I think whatever success I've had in this area has to do with sort of applying an acoustic sensibility to electric instruments, and the Bose stuff is central to it all. We could never have done it without it.
-Pat Metheny, Jazz Musician
Oakland, NJ (PRWEB) November 15, 2012
American Musical Supply knows the importance for musicians to feel a sense of security when it comes to their equipment. Artists' livelihoods depend on the performance of their equipment, which is why AMS believes ensuring long-lasting quality shouldn't result in additional fees. That's why for years AMS has earned the trust of musicians around the world, and continues today to build that trust by adding 12 free months to the manufacturer's warranty on select Bose L1 Portable Sound Systems. Musicians are passionate about their music; AMS is passionate about offering the added protection of 12 free months of warranty beyond the manufacturer's standard warranty period on the following Bose Systems: the L1® Compact, the L1® Model 1S, and the L1® Model II. Bose currently offers a five year warranty on the speaker, and a two year warranty on the power stand for these systems. The AMS "Gold Lock Protection" program begins instantly after purchase and increases this protection period to six years of warranty on the speaker and three years on the power stand. Items that include this extended warranty are identified on their respective item pages on the AMS website and will say "Free Extended Warranty". There is no deadline on the program as it exists indefinitely to help musicians continue what they love and is exclusive to American Musical Supply.
Short video detailing Jazz Musician Pat Metheny's passion for the Bose L1 PA Systems, and how they help him bring his music to a whole new level. | Video: Pat Metheny On Tour with Bose L1
These systems provide high quality Bose audio for vocals and instrumentals that are capable of performing anywhere from small venues to the great outdoors. All of this is available while being completely portable, and is amazingly easy for one musician to move from gig to gig. By increasing the warranty length on the Bose PA Systems AMS hopes to save musicians money, and reassure them that their investment is safe through this extended coverage. For more information on the addition of 12 months of warranty to the Bose L1 PA Systems please visit American Musical Supply.
Located in Oakland, New Jersey, American Musical Supply is a leading online merchant of professional and affordable musical equipment and supplies including guitars, amplifiers, live sound, DJ gear and more. AMS offers award-winning customer service and the American Musical Supply website has also been ranked in Internet Retailer's top 500 e-retailing businesses.