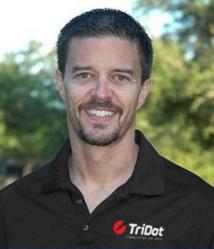 Our system is designed to identify optimal training loads and translates those to race ability... With a tenacious and gifted athlete like Nick using the TriDot System, its amazing what's possible.
Dallas, TX (PRWEB) November 09, 2012
TriDot triathlon training coach Nick Waninger finished in 2nd place overall at the 2012 Augusta Ironman 70.3. He credits his success to persistence, a higher power, and to the TriDot Triathlon Training and Triathlon Coaching System.
Said Waninger of his experience, "After a solid phase of training and a couple of rough races leading into Augusta, things finally started to come together on the 'things you just can't plan for' side. No odd penalties, no disappearing arm rests, and the right kind of training culminated in a great race result."
The Ironman Augusta triathlon started at the Riverfront Marina with a 1.2 mile point-to-point swim in the Savannah River ending at the Augusta Rowing Complex, with waves of swimmers starting every four minutes. The swim was followed by a 56-mile single-loop bicycle course that darted briefly into the countryside of South Carolina, offering very little level terrain. The athletes finished up the race with a two-loop running course through downtown Augusta and residential areas.
Said Waninger of the race, "After swimming past the swim exit and rejoining the lead group out of the water, I had a decent ride and a solid run to work my way up to a personal best Ironman 70.3 finish as the 2nd pro overall. Thanks to God and to a functional, purposeful training plan, I was prepared. All it came down to on the race morning was handing it over to Him and executing the plan."
TriDot coach and founder Jeff Booher has said of the TriDot System, "Our system is designed to identify optimal training loads and translates those to race ability. Too many other systems focus only on distance, and not the actual workloads and development of workload capacities being developed in training... With a tenacious and gifted athlete like Nick Waninger using the TriDot System, it's amazing what's possible."
About TriDot
The TriDot® System is a unique, patents-pending triathlon racing and training system developed based upon extensive, ongoing primary research that has been underway since 2004. The TriDot® System's Intelligent Design Process (IDP) is a one-of-a-kind, data-driven process that generates optimized training programs custom-built for each individual athlete. The customized programs deliver maximum optimal results on a per-training-hour basis. For each hour of training time invested, athletes can expect maximum performance gains. TriDot serves every athlete, from beginners to experienced professionals. The TriDot® System helps to takes the guesswork out of the monumental undertaking of triathlon coaching, training and racing.
This Press release was created and distributed on behalf of TriDot by Prism Communications Inc. Prism Communications is a full service internet marketing company that cuts through the myriad of internet marketing tactics and develops a coherent strategy for companies looking to grow their online presence. To learn more about Prism Communications, or to contact them for a free consultation for internet marketing solutions, email them at sam(at)prism-communications(dot)com.