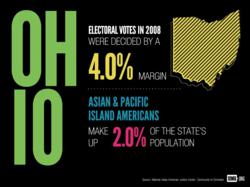 Electoral votes in Ohio were decided by a 4% margin in 2008.
Cleveland, OH (PRWEB) November 03, 2012
ASIA is pleased to announce that multilingual voter resources for the November 6, 2012 general election are available on our website at http://www.tinyurl.com/asiagotv. Visitors to the page will find:

A comprehensive Ohio Asian& Pacific Islander American Voter Guide in Chinese, English, Japanese, Karen, Korean, Mon, Punjabi, and Vietnamese
The 1-888-API-VOTE multilingual voting help hotline
A guide to protecting language access during elections
When and where to vote early in Ohio
How to find your polling location on Election Day, November 6, 2012
According to 2010 Census data and voter file data from March 2012, only 40% of Asian Americans and Pacific Islanders (AAPIs) in Ohio are registered to vote – the lowest voter registration rate of any racial group in the state. Anemic voter registration rates can be contributed in part to the high percentage of elderly, foreign-born, and/or limited English-proficient members of the AAPI community, who face barriers of language and anxiety around an unfamiliar process.
Throughout the 2012 election season, ASIA has worked with local communities statewide to educate and mobilize Ohio's Asian American and Pacific Islander (AAPI) voters through the nonpartisan Ohio AAPI Voter Registration and Education Project (VREP). ASIA's partners in Akron, Cleveland, Cincinnati, Columbus, Dayton, and Oberlin have organized voter registration drives, presidential debate watch parties, voters' rights presentations, phonebanking campaigns, in-language ballot reviews, and rides to early voting locations.
In light of recent history, the AAPI vote could determine which of the two major presidential candidates—President Barack Obama and Governor Mitt Romney—wins the electoral votes of this key battleground state. The 2008 presidential election saw Ohio's electoral votes decided by a 4% margin, with AAPIs making up 2% of the state population.
ASIA will continue working to mobilize Ohio's AAPI voters in the last days before the election. Individuals interested in volunteering on Election Day to phonebank, provide language assistance, or transport voters to the polls are encouraged to contact Deborah Wang at (330) 645-5805.
The 2012 Ohio AAPI Voter Registration & Education Project is made possible by support from APIAVote, a national nonpartisan organization that works mobilize Asian Americans and Pacific Islanders (AAPIs) in electoral and civic participation.
###
Asian Services In Action
Founded in 1995, Asian Services In Action's mission is to is to empower and advocate for Asian Americans/Pacific Islanders (AAPIs); and to provide AAPIs access to quality, culturally, and linguistically appropriate information and services. Visit http://www.asiainc-ohio.org to learn more. Follow ASIA on Facebook and Twitter!