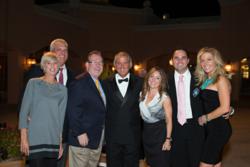 Jupiter, FL (PRWEB) November 04, 2012
The newest billionaire broker to be recognized by Who's Who in Luxury Real Estate is Waterfront Properties and Club Communities' Rob Thomson.
Thomson, managing partner of the real-estate firm in Jupiter, made history last month at the group's Fall conference by becoming the youngest broker to break into the Billionaires Club.
"Brokers from around the world who have referred customers for us unquestionably have helped make this happen," he said. "Brokers trust us to find suitable property for their clients."
Membership into the exclusive international group is granted to agents who have sold more than $1 billion in real estate in their careers. Thomson becomes the 21st member and, at age 50, the youngest to achieve the milestone.
HIs career in the brokerage business spans nearly 30 years, and he has become a household name when it comes to Palm Beach County homes for sale. By attending almost every Who's Who in Luxury Real Estate conference since 1995, the year the organization debuted, and serving on its Board of Regents executive committee, he has developed rock-solid relationships with Realtors from across the globe.
Here are their testimonials:
Nick Churton, managing director of Mayfair International Realty in London:
"I travel a great deal in the U.S. and meet many influential and successful people connected to the real-estate industry. Rob's name comes up time and time again as an industry leader of great foresight and energy. There are three important factors that really help to forge good relationships between brokers -- wherever they may be in the world. These are discretion, honesty and inventory. Rob has all three in abundance."
Brian Losh, chairman of Who's Who in Luxury Real Estate in Seattle:
"I have known Rob and his family since the mid-1980s. His family has always been a respected part of the real-estate community. One of Rob's strong suits is his willingness to share information with other luxury brokers. He is the youngest Billionaires Club recipient in the history of this award. He works hard, he continues to innovate, he never settles."
Elizabeth Ann Kivlan, executive vice president of Stribling in New York:
"Rob and Waterfront Properties are a pioneer in the real-estate industry. Their commitment to technology and their clients is widely known. Rob's knowledge and leadership has been an inspiration to those who know him. I am always eager to speak with Rob in regard to the new advents at Waterfront. It is a cutting-edge company. Rob is always willing to share and mentor those around him. There is something so refreshing about the exchange of ideas between peers."
Malone Hodges, managing broker at Carmel Realty Company in Carmel, California:
"Rob is one of the most connected brokers I know, anywhere. His enthusiasm and willingness to share with other brokers is unmatched."
Diane Turton, of Diane Turton Realtors in Point Pleasant Beach, N.J.:
"Rob runs a tight ship, and he knows how to sell luxury real estate. I've always had a good experience with him on a referral. You give to whom you trust."