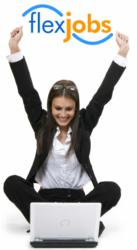 Boulder, CO (PRWEB) November 05, 2012
On the heels of the election, with a campaign season that featured heated discussions of flexible work options, both flexible job opportunities and seasonal jobs are on the rise. With the holidays quickly approaching, employment opportunities that offer flexible hours in positions such as Tax Site Manager, Ski Instructor, Snow Maker and Marketing are being posted.
"We see a variety of new positions around the holidays," shared Sara Sutton Fell, CEO of FlexJobs. "It's a great time for those who need additional income this time of year to make extra money."
With the election fast approaching and jobs being a hot topic, year-round jobs that offer some type of flexibility in general,including telecommuting, part-time and freelance jobs, are also on the rise. The break down of the biggest increases by career field is as follows:
1. Holiday up 750%
2. Insurance up 48 %
3. Project Management up 30%
4. Computer & IT up 16%
5. Customer Service up 11%
"Considering flexible jobs were mentioned in the second presidential debate during the 'binders full of women' discussion, it's good to know that more openings continue to be listed," said Fell.
Out of the 25 career fields studied, the report found the fields with the most available jobs overall in October were:
1. Medical & Health
2. Customer Service
3. Administrative
4. Education & Training
5. Computer & IT
The ongoing Flexible Job Index report tracks the availability and variety in the employment market for telecommuting, part-time, and other flexible jobs, and provides reliable data on top career fields that offer work flexibility. Data includes positions listed on the site directly by employers as well as jobs found by FlexJobs' trained staff of researchers who scour hundreds of online sources, including industry blogs, employer websites, job boards, job feeds, and more. Only professional jobs that can both be confirmed as legitimate and as having some kind of work flexibility (telecommuting, part-time or flexible schedule, or freelance contracts) are included in FlexJobs' job database.
The Flexible Job Index can be viewed by visiting http://www.flexjobs.com/trends. For media inquiries, please contact Chelsea Gladden, Chelsea(at)flexjobs(dot)com or 1-866-991-9222 x 4.
About FlexJobs
FlexJobs is the leading online service for hand-screened and professional flexible, part-time, telecommuting, and freelance job listings. FlexJobs gives job seekers an ad-free way to find legitimate jobs quickly, easily, and safely. A proud member of the Better Business Bureau, FlexJobs skilled research team provides quality job leads in over 50 career categories, ranging from entry-level to executive, freelance to full-time. FlexJobs is a green, carbon-balanced company which is leading the way to the future of work by promoting telecommuting and flexible jobs that allow people to enjoy work and life in environmentally sustainable ways.
To find out more about FlexJobs, visit http://www.FlexJobs.com.