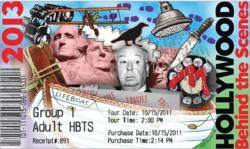 Hollywood, CA (PRWEB) November 05, 2012
While many of the event details are still in the works, currently committed to speak at the 2013 ticket unveiling is Golden Globe winner, Ms. Tippi Hedren - The only actress to have worked with both legendary directors Alfred Hitchcock and Charlie Chaplin. Tippi will also be celebrating the 50th anniversary of "The Birds" in January, 2013. The unveiling at 4:00pm will precede a 50th Anniversary screening of "The Birds" at Grumman's Chinese Theatre at 7:00pm.
The now highly collectable 2012-edition featured a 3-tickets series "The Icons of Hollywood" featured the Capitol Records building, Grauman's Chinese Theatre and the Hollywood Bowl. Red Line Tours' "Hollywood Behind The Scenes," is LA's only walking, guided tour, which visits famous film locations, classic movie palaces, the Hollywood Walk of Fame and more. Red Line Tours consulted with members of The Director's Guild of America to painstakingly edit down the their choices from the immense selection of Hollywood's illustrious directors.
The tickets will be good for admission to Hollywood Behind-the-Scenes and will serve as a high quality collectible memento. Hollywood Behind-the-Scenes, a 75-minute guide-led journey revealing the story of Hollywood from its Golden Age to present day, is the only walking tour in Los Angeles and the only tour that uses a live state of the art adjustable audio system that allows all patrons to hear the guide up to 300 feet, regardless of the surrounding noise.
Red Line Tours Hollywood Behind the Scenes is undisputedly one of Hollywood's most popular and enduring attractions and has become part of Hollywood's modern history. Actor Joseph Gordon-Levitt used Red Line Tours Downtown LA tour to help prepare for his role in "500 Days of Summer," and Clare Danes toured with founder Tony Hoover as part of a piece on her early days in theatre.
The Red Line Tour guides dispel myths and often reveal unknown behind the scenes stories, classic movie palaces, history of the Hollywood Sign, Walk of Fame lore... and Hollywood's hidden hideaways of the Stars, while taking patrons inside venues generally restricted to the public. Even many native Angelinos may learn new tidbits about their own city such as:
o For which films did Charlie Chaplin win an Oscar?

Chaplin never won an Academy Award, but he was given "honorary" awards
o In which film did Sophia Coppola play a male character?

The Godfather; she played the infant son
o What is Sophia Coppola's Oscar first?

She was the first American female director to be nominated for the Best Director category in 2004
o Which director is responsible for the giant white elephants in Hollywood & Highland Center?

DW Griffith; they are from a recreation of his movie set for "Intolerance" (1916)
o What famed Hollywood director was originally supposed to play Mr. Rourke on Fantasy Island?

Red Line Tours Founder, Tony Hoover received a BFA from Ball State University. A degree in and a passion for architecture led to his interest in Los Angeles structures, which in turn gave him a love for the illustrious history behind the movie capital of the world. Clearly others share his admiration for Hollywood and it's past as Red Line Tours books has been booking tours for individuals and groups for more than a decade.
One of the most appealing features of Red Line Tours is their unique "live-audio" system, provided by Williams Sound. This unique low-frequency radio broadcasting system allows customers to hear their tour guides even over the most extreme city noises, such as traffic, construction noise and other potential distractions, while giving them the freedom to wander freely and enjoy the live commentary.
Red Line Tours Community Outreach
Red Line Tours, in conjunction with Partnership for Los Angeles Schools, has been hosting field trips for a group of about 200 at-risk youth from Middle Schools in South Los Angeles who are part of the AVID program (Advancement Via Individual Determination - http://www.avid.org.) The program includes a free luxury motor coach transport, tour leaders, attraction tickets and meals and aims to expand how these kids see their community and world around them. Partnership for LA Schools serves nearly 17,000 students across 22 schools in some of the city's most impoverished environments. Some of the student are currently or have been homeless. On February 24, Carver Middle School from South L.A. got to experience one of these tours, which culminated in them meeting and taking pictures with Academy Award Winning Actor, George Chakiris, while holding the actual Oscar he won for "West Side Story."
For information go to http://www.redlinetours.com/redline/hbs.php