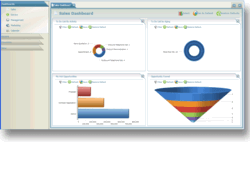 You must manage the satisfaction of every interaction with your customer.
Milwaukee, WI (PRWEB) November 05, 2012
WorkWise has announced the strategic acquisition of OnContact Software of Cedarburg, WI, a leading provider of mid-sized CRM systems.
Wayne Wedell, President of WorkWise, said "During the OEM partnership that we have had with OnContact for the past 6 years, we observed how important the OnContact CRM system was both in helping our customers manage their customer relationships and also capturing a growing share of a new market place. You must manage the satisfaction of every interaction with your customer. With fierce competition in all industries, only one mistake can separate you from forming or keeping a relationship. OnContact CRM provides the ability to monitor and control all your customer touch points".
In regard to new prospects, "It is no longer acceptable to sit back and wait for prospects to come to you. Today's prospects are smarter and are doing their research prior to ever talking with a sales person. If you are not actively pursuing them with relevant content and an active CRM process, you are becoming invisible" said Harry Mosesian, Director of Sales and Marketing.
OnContact
OnContact's latest release, CRM 7, is a 100% web-based application designed to help sales, marketing and customer service departments exceed their performance. Its easy-to-use, productivity enhancing, customizable environment is available in a hosted as well as on-premise basis.
The recipient of numerous industry awards for exceptional CRM software, OnContact has built a solid reputation with experts in mid-market CRM, supplying satisfied customers with the right CRM solutions for over a decade. (See awards)
"WorkWise is an innovative company with the right mindset and resources to take the OnContact product to the next level", said Jon Zimmerman, co-owner of OnContact.
It is the plan of WorkWise to further enhance product development and customer support and since both companies leverage similar technologies, the R&D effort to develop new functions for the OnContact product will be strengthened. CRM is a rapidly changing landscape, and WorkWise brings the resources necessary to take the OnContact product into the future.
"Workwise looks forward to expanding our sales and marketing efforts because of the OnContact acquisition", said WorkWise Director of Sales & Marketing, Harry Mosesian. "In addition to our manufacturing base, we intend to continue to offer CRM 7 to a wide variety of businesses. Having used OnContact CRM software ourselves for several years, we know firsthand how valuable a tool that it can be".
WorkWise Integration
WorkWise has built a level of integration to the OnContact CRM product that is unavailable from other ERP vendors. Not only can you see information from the WorkWise ERP system within OnContact, you can customize the views to see exactly what you need to do your work. For example, sales people can now see order status, invoice payments and other key ERP information. And, if there is screen information that is not needed, it is easily removed. Focus and productivity soars when sales representatives do not have to dig through non-critical information. This type of view configuration, called Role-Based (see Role-based), is available throughout the WorkWise product line. It is not unusual to see gains of productivity up to 50%; where-ever it is applied.
The integration to OnContact also eliminates the problems of disconnected standalone systems, like many competitive CRM products where the user can never see the whole customer relationship, if the ERP and CRM systems are not one and the same. And, trying to integrate two separate systems is expensive, prone to errors and subject to constant modifications when new editions of each separate product are issued. (For more information, see ERP-CRM)
Wayne Wedell, President of WorkWise summarized, "We have been very pleased over the past 6 years with the value that OnContact's product has added to our customer base. We are excited with the new possibilities that this acquisition provides for the growth of WorkWise".
About WorkWise, LLC
WorkWise is a customer-centric solution provider of the RB-ERP manufacturing system. In addition, WorkWise provides a full range of offerings, including Customer Support, Consulting, Technical and Integration Services. WorkWise offers solutions to make-to-order, repetitive and mixed-mode manufacturers to shorten cycle times, reduce inventory and improve customer service. Companies that require solutions that simplify and optimize manufacturing information, supply chain management, manufacturing execution and planning can enhance their operations through use of RB-ERP by taking time out of the business processes and increasing value-add in products and services.