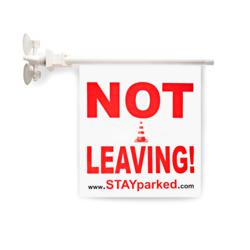 More Signage means More Visibility & Less Harassment
New York, NY (PRWEB) November 13, 2012
StayParked Inc. launches a unique set of Vehicle Signage products which when mounted on vehicles will help "parking space searchers" to identify those vehicles that are not leaving their parking spot.
Products have already been tested in New York City and motorists have gotten great results from using them.
Due to the abundance of congested traffic in high-profile cities, many motorists are always cruising and hesitantly stopping by parked vehicles asking if the person is leaving their parking spot in-turn causing much undue headaches for other motorists behind the vehicles of those "parking space searchers' whom are moving very slowly searching for a parking spot.
In so doing, this increases traffic volume (due to searching) because of moving at a slower speed and/or stopping more frequently, causing disturbances to other road users, and possibly causing an accident to on-coming traffic. To those whom are parked it also causes much un-wanted annoyance to owners of parked vehicles.
Cruising for parking also angers drivers, increases traffic congestion and air pollution, and wastes gasoline and time.
StayParked Inc. now has Eye-Catching Products that vehicle owners can purchase which alerts near-by motorists whom are looking for a parking spot; informing such "parking space searchers" that owner of vehicle is Not Leaving their parking spot.
StayParked Inc products has already benefited the environment in lowering gas emissions and better increased movement of traffic.
By having StayParked Inc. product(s) on the vehicle when parked; they will act as a deterrent to stop annoying or un-wanted questions as to whether owners of their vehicles are either leaving or staying in their parking space.
Alfonse Prestia, President
StayParked Inc.,
Telephone: 212-665-7374
http://www.stayparked.com