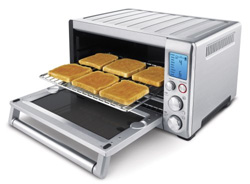 Atlanta, GA (PRWEB) November 07, 2012
10rate editors Steve Holdgren and Brittany Rowland cut through all the choices out there in the small kitchen appliance category to come up with their top choices. According to the  Best Convection Microwave page at 10rate.com they selected their top choices based on the following criteria:
1. Cooking performance
2. Space inside and the size of the turntable
3. Easy to use controls
4. Afforability
5. The look and style of the microwave
The Sharp R-820 JS convection microwave won top honors. They said this one is, "A versatile multi-tasker, the Sharp R-820JS functions as a high-powered microwave, convection oven, and grill. With a handsome stainless steel interior and porcelain turntable, it's attractive sitting on the counter too. Reading the manual is a must, as it includes instructions for programming the oven for all sorts of functions " Panasonic and KitchenAid had convection microwaves that performed almost as well as the Sharp model.
Editors also evaluated and selected the Best Convection Oven based on the following:
1. Heat and energy efficiency
2. Space determined in cubic feet
3. Features like rotisserie and ability to hold pizzas
4. How easy it is to keep clean and operating properly
5. Price
6. Look and style of the oven
According to reviewers, the Breville BOV800XL was the best convection oven on the list. Editors noted some of the highlights, "The Breville convection oven works with Element IQ technology that distributes heat evenly and efficiently. More energy efficient than a full-size range, with a sealing door that traps heat, the oven also has a convenient slide-out rack to reduce the risk of burns." Calphalon and Hamilton Beach had entries on the list that placed 2nd and 3rd respectively.
10rate.com conducts reviews in various product and services categories and publishes "Expert Top 10 Lists for Everything in your life." The company's web site strives to "Make it Easy" to select from the hundreds of choices there are in the product and service market place. All products and services are thoroughly researched by the companies expert editors prior to receiving a rating on a 1-10 scale. In addition to product reviews the companies editors write guidelines, buying guides and articles on various topics surrounding each product or service category covered to help educate the consumer.