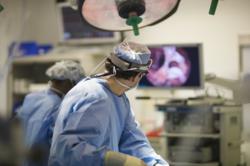 Pleora sees a number of parallels between the medical imaging market and the machine vision market.
(PRWEB) November 02, 2012
Pleora Technologies, a longstanding supplier of standards-based video interface solutions to the medical imaging market, will share its experience with fellow attendees and exhibitors at the upcoming VISION 2012 trade fair, taking place in Stuttgart from November 6-8, 2012.
Pleora is a participating member of the VISION 2012 Medical Discovery Tour and a featured presenter during the Industrial Vision Days talks. A market with high-potential for the machine vision industry, George Chamberlain, Pleora President notes: "We've been working with systems designers in this industry for ten years, and we see a number of parallels between the medical imaging market and the machine vision market in terms of challenges and technology trends."
John Phillips, Pleora's Senior Manager, Marketing, adds that, "In particular, we're finding that the medical imaging market is insistent on using non-proprietary video interfaces that are based on common IT platforms like Gigabit Ethernet and USB 3.0." Standards-based video interfaces allow systems designers to use of off-the-shelf, inexpensive networking equipment, while still ensuring high-quality, reliable image transfer, as well as low, predictable latency."
Pleora's video interface solutions are in use by leading manufacturers of digital radiography, veterinary imaging, fluoroscopy, dental imaging, and image-guided surgery systems. Further, the company also has a team of engineers available to develop custom solutions to meet the exacting, and often unique, requirements of these kinds of leading-edge manufacturers.
VISION 2012 Medical Discovery Tour
At this year's VISION 2012 trade fair, attendees to the Pleora stand can witness a live technology demonstration of a wireless-enabled GigE Vision camera. The demonstration will feature a GigE Vision compatible camera transmitting images to a PC running Pleora's eBUS™ SDK and to a monitor via a vDisplay™ HDI-Pro IP engine.
Pleora will also be exhibiting its GigE Vision over 10 GigE video interface, the iPORT™ CL-Ten Dual Medium IP engine. A highlight from VISION 2011, the iPORT CL-Ten IP engine delivers video data from two Camera Link® Medium cameras to PCs over industry-standard 10 GigE links.
"We anticipate a great deal of interest in our new extended family of standards-based video interfaces. With our products, systems and camera manufacturers can expand their product lines beyond traditional digital imaging solutions," says Phillips.
Pleora's Industrial Days Presentation
Once again, Pleora is honored to be selected as a presenter during VISION 2012 trade fair's popular "Industrial Vision Days" talks. Phillips will be sharing Pleora's experience in working with the medical imaging market and how the choice of video interface can add significant value to an overall vision system's design.
About Pleora
Pleora Technologies Inc. pioneered the use of Gigabit Ethernet for real-time video connectivity and revolutionized industrial imaging. With this spirit of innovation, Pleora continues to engineer standards-based video interface solutions for applications that require lossless video transfer and reproduction. Working with its rich portfolio of products, Pleora partners with customers to tailor solutions to their individual needs, from definition to deployment, with full integration support. Find out why more camera and equipment manufacturers and systems integrators choose—and stay—with Pleora, visit http://www.pleora.com.