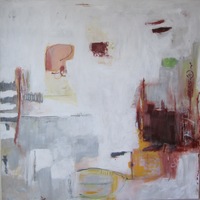 Hilton Head Island, SC (PRWEB) November 04, 2012
Journeys, a series of twelve paintings, was inspired by images from her travels through Europe as well as her years in New Orleans. Essentially the pieces merge the poetry of various places with the beauty of their landscapes. Her work brings layers of a location into each piece almost allowing you to experience it as if you were there.
The paintings in the Journeys collection retain the humor, wisdom and cultural exploration that have become characteristic of her style. Each piece tells a story that engages the audience with its telling. The dynamic strokes of rich color are second nature to the artist and her art. This expressive nature relays an image of a world that is constantly changing but still the same somehow. Visitors of the locales will see images in the landscapes that bring memories of their travel back to them more clearly.
About the artist: Cody Riess is a widely known artist with work that has been featured on MTV Cribs, Veranda, Southern Accents and Traditional Home. Her work has been shown in Los Angeles, Atlanta, High Point, Dallas, Austin and New Orleans - including the Danna Center at Loyola University. For more information, please visit: http://www.codyriess.com.
About the gallery: J Costello Gallery has been presenting art from extraordinarily talented contemporary, international artists to the community. The gallery takes great pride that it showcases art with honesty, integrity, and beauty, but without pretension. Contact J Costello Gallery at Shop 8 Archer Road, Hilton Head Isle, SC 29928. Phone: 843.686.6550.