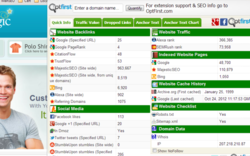 The Optfirst Chrome Extension is an application that any Google Chrome users can install to get quick information about a website
Miami Beach, FL (PRWEB) November 03, 2012
There are a lot of ways to get a website's SEO information but most of it takes some time before websites rank at the top of the search engines. The data includes traffic, domain data, social media activity, keyword density, and all the other SEO information to keep track of. It takes hours to find out the data to analyse a website and its competitors. Optfirst, a well-known internet marketing company from Miami Beach, however, just launched a brand new application for Google Chrome users that would allow the user to get all the necessary website information without dedicating too much time with the task – the Optfirst Chrome Extension.
Optfirst, Inc., a Miami Beach based internet marketing company, recently released their first ever SEO tool via Google Chrome application – the Optfirst Chrome Extension. This is designed for webmasters, internet marketing specialists, or simply a website owner who wants to get necessary website information about competitor's website. "The Optfirst Chrome Extension is an application that any Google Chrome users can install to get quick information about a website," says John Kriney, President of Optfirst, Inc. "this can be useful not just to SEO specialists, but also to regular users who are looking for an easy and effective way to get all the necessary website information. The browser extension is available in Chrome Store, just search for the Optfirst Chrome Extension. The extension is easy to use and it clearly shows a website's SEO, SEM Social Media and Website Metrix."
The new SEO tool also features seven categories that will help users know the following without dedicating too much time – Social Media Activity, Website Traffic, Indexed Webpages, Website History, Website Checklist, Domain Data, and a Bonus Box where users can find the No-Follow Link Checker that highlights any No-Follow Links in Blue. So with the help of the Optfirst SEO Extension tool, users will check a website's page rank, web traffic value, as well as anchor text all at the same time. No need to open a new tab or new website to checkk a website's SEO information.
"Through the help of the Chrome SEO Extension by Optfirst, users can now be guaranteed to save their time figuring out their competitor's website information and focus on the more important aspect of their business – providing high quality products and services to their clients," finishes John Vincent Kriney.
About Optfirst:
Optfirst, Inc. is a Miami internet marketing company that offers ethical and organic SEO services not only for businesses in Miami, but the entire United States. By using more than 20 web marketing strategies to use, clients can be guaranteed that they will get the maximum visibility online.