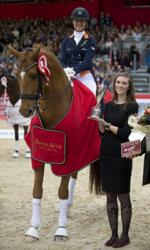 (PRWEB UK) 4 November 2012
Defending champions, Adelinde Cornelissen and Jerich Parzival, once again stamped their authority all over the opposition when racking up their second successive victory in the Reem Acra FEI World Cup™ Dressage Western European League qualifier at Lyon in France tonight. The Dutch partnership scored a massive 89.375 to leave them well clear of runners-up Valentina Truppa and Eremo del Castegno from Italy, while it was a very satisfying day for Kristina Sprehe who slotted into third with Desperados FRH.
In yesterday's Grand Prix the 26 year old German rider endured an uncomfortable time as her 11 year old stallion bubbled over with excitement to finish well down the line in eighth place. Tonight however they produced a much more focused performance to edge ahead of Sweden's Patrik Kittel and Watermill Scandic HBC in the final line-up.
Asked tonight if competing with Jerich Parzival is a more enjoyable enjoyable experience these days, Cornelissen, who was described as "The First Lady" during the press conference, referred to the change in the character of her 15 year old gelding. "Yes, he's not nearly as spooky as he used to be, he doesn't worry and he's much more relaxed so I can work on his self-carriage and suppleness - and it's nice that everyone is noticing the difference and that they are liking it!" she pointed out.
Continuing Form
She gave notice of her continuing form with victory in yesterday's Grand Prix in which her Dutch colleague, Edward Gal, lined up second with Glock's Undercover. Gal's performance today however was only good enough for fifth place with a mark of 79.125.
Sweden's Minna Telde set the standard in the first half of the competition with a lovely Freestyle from the eye-catching and exciting 11 year old black stallion Santana who showed a lot of elevation in extended trot for a score of 76.350. French rider, Jessica Michel, followed her into the ring, and, on her debut at Reem Acra FEI World Cup™ level competition, the 30 year old did herself proud with an expressive test from the 11 year old mare Riwere de Hus whose easy way of going was complemented by power, particularly in the pirouettes, and lovely moments of suspension for a score of 73.350. But Sprehe and her Olympic ride, Desperados, were the show-stealers as the second tranche took their turn.
After registering a mark of 82.250, which temporarily took over the lead, the German rider explained, "yesterday was the first competition for my horse for a long time. He was breeding after competing in London, and he is a stallion so he couldn't find his concentration yesterday. Today though, he was much more relaxed" she said.
Re-set the Parameters
Sprehe was still out in front with just three left to go, but this group would re-set the parameters, led by Cornelissen who was third-last into the arena. Parzival is oozing confidence these days, and as he breezed through the test that he now knows so well it was clear that the new signals he is getting from his rider are being better understood. After their victory in the first leg of the Reem Acra FEI World Cup™ Dressage series in Odense two weeks ago, Cornelissen explained that her effort to lighten her riding style so that she can produce an even more pleasing picture for the panel of judges had led to some moments of confusion for the big chestnut horse. But this time the transitions were seamless, and there was little doubt about who would come out on top as their big result lit up the scoreboard.
Second-last to go, Sweden's Patrik Kittle and Watermill Scandic HBC earned 81.025 for their rhythmic test, and then it was left to Italy's Valentina Truppa and Eremo del Castegno to lay down the final challenge. And it was good enough for runner-up position when they put 83.350 on the board.
Full report at http://www.fei.org