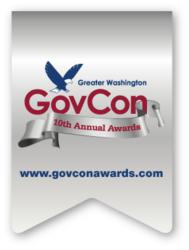 Congrats to all of our employees and my most sincere thanks and appreciation for all of your hard work and efforts. President & CEO Mehul Sanghani.
McLean, VA (PRWEB) November 05, 2012
The Greater Washington Government Contractor Award is the premier event honoring the leadership, innovation and commitment to excellence of the people and businesses in the region's government contracting community. Presented by the Fairfax County Chamber of Commerce, Professional Services Council (PSC) and Washington Technology, the 10th Annual Greater Washington Government Contractor Awards™ winners were announced at an evening gala on November 1st, 2012, and has been dubbed the "Academy Awards of Government Contracting." Finalists and winners are chosen by a panel of highly regarded industry and government leaders. The GovCon Award recognizes businesses in the region's government contracting sector with the best innovation, leadership, and excellence.
Octo Consulting Group is a leading technology and management consulting firm focused on providing federal government agencies with creative and actionable business solutions in the areas of technology solutions, program management, performance based acquisition, IT management consulting, organizational change and business transformation. With over 90 exceptional consultants, 25 government clients with 97% client retention, Octo deliver results that matter!
To learn more about Octo's solution areas and past performances with the government market visit our website. Add us on Linkedin, Facebook, and follow us on Twitter to read more about what is new at Octo Consulting Group!