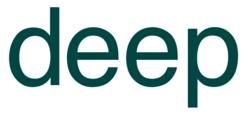 Her balance of leadership and communication skills is just what foodservice clients need from an account executive.
Springfield, MO (PRWEB) November 06, 2012
The deep agency today announced further expansion to its persuasive advertising team. After recently adding key members to its public relations and copywriting departments, deep has hired an additional account executive, Liz Pucci. Seasoned in both client relations and field marketing management, Pucci has nearly a decade of experience serving clients like Diageo, Jim Beam Brands and others in the food and beverage industry.
Deep Vice President of Account Services Valeri Lea, who has managed award-winning persuasive advertising campaigns for many of deep's clients, is excited about the addition of Pucci: "Liz has spent significant time managing accounts for iconic brands, and she has an excellent track record for leading projects successfully and keeping clients happy. That balance of leadership and communication skills is exactly what we need from our account executives."
Because deep has built a stellar reputation for selling food to restaurants, it represents many foodservice brands including Nestlé Professional, Otis Spunkmeyer, Lamb Weston, Kerry Foodservice and others. Pucci addressed how her career has prepared her for managing foodservice marketing accounts: "My work with Diageo and other beverage brands, on both the client side and distributor side, has given me insight on what resonates for foodservice and how crucial continued communication is for clients in the industry. I'm really thrilled to join deep and put my experience to work for the brands we represent."
Pucci is now poised to manage food branding campaigns for deep clients, and her impressive résumé reflects a wealth of experience in marketing. Her roles have included wide-ranging responsibilities in experiential marketing, event management, brand management, sales training, promotion and more. In addition to working with brands such as Amstel Light, Stirrings and Don Julio, she has coordinated or directed large-scale events and tours including the Thermasilk Presents Ashlee Simpson tour, Johnnie Walker Journey tour and the Zippo Hot Tour.
With that type of proven leadership expertise, Lea is confident deep's clients will benefit greatly with Pucci at their service.
deep
Founded in 2005, the persuasive advertising and foodservice marketing group deep creates breakthrough branding campaigns in both direct-to-consumer and B2B advertising. The agency's inspired creative compels consumers and ensures each brand it represents remains top of mind. As part of the Marlin Network, deep is independently and completely employee owned and is headquartered in Springfield, Mo. Representing over 70 food and beverage brands, Marlin Network consistently remains the number one purchaser of foodservice media. The Network consists of deep, Marlin, Alchemedia Project, Marlin Network Consulting, FoodIQ and STARAwards. As a member of the global Transworld Advertising Agency Network, Marlin Network was included in Inc. Magazine's 2010 and 2011 lists of America's Fastest Growing companies. For more information, visit deepgroup.com or follow them on Twitter, Facebook, Flickr and the b!eep blog.