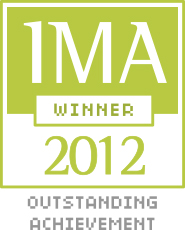 "[The Interactive Media Award] is a testimony to the creativity, imagination and web site expertise of Box Clever and our marketing staff.
Edmonton, Alberta (PRWEB) November 04, 2012
The King's University College's website, kingsu.ca, has won an Outstanding Achievement Award in the university category from the Interactive Media Council's Interactive Media Awards. The honour was awarded to Box Clever, the Edmonton website design company hired for the project. King's website beat out 83 other entries for the award.
The Interactive Media Council stated in their announcement, "The Outstanding Achievement award is the second highest honor bestowed and an extremely challenging award to win. Your website has excelled in all areas of our judging criteria and represents a very high standard of planning, execution and overall professionalism."
"We are delighted that our website has won this award," said Harry Fernhout, president of The King's University College. "It's a testimony to the creativity, imagination and web site expertise of Box Clever and our marketing staff. We congratulate them on this accomplishment."
The website, launched at the end of August, was developed with input from faculty and staff. It focuses on better serving current students, prospective students, alumni and donors through new features including a searchable staff/faculty directory, mobile sites for iPad and iPhone and social media integration.
"It's very exciting to win an award of this caliber. The King's University College website was a big project, and we had a lot of fun working on it with the King's team. To see that effort, and the great working relationship we have with King's, rewarded in an international arena - that's awesome," says Steve Mebs, principal at Box Clever.
Each entry could receive a maximum of 500 points. Websites receiving an overall score between 460 and 479 received the Outstanding Achievement Award. King's earned 472 points – with top scores in design, content and feature functionality.
To learn more about the Interactive Media Award, visit: http://www.interactivemediaawards.com
-30-
Media Contacts:
Kealy Litun, Marketing Coordinator
The King's University College
(780) 465-8317
http://www.kingsu.ca
The King's University College offers fully accredited Bachelor degrees in the Arts, Humanities, Music, Social Sciences, Natural Sciences and Commerce/Management, as well as an Education after degree. King's serves almost 700 students from across Canada and abroad, representing more than 16 nations. Faculty members are highly qualified, committed to academic excellence and communicate a Christian perspective in their teaching. Students are challenged – both inside and outside the classroom – to apply what they learn to their lives and future careers.
For the last six years, King's has been a leader in its sector with "top of the class" grades for Student-Faculty Interaction, Class Size, Quality of Teaching and Most Satisfied Students in the Globe & Mail Canadian University Report. King's received top marks in the entire country for nurturing students as reported in MacLean's magazine.
Box Clever is an Edmonton website design company focused on excellent website design and development. Box Clever has grown to include graphic design and web development experts who work as a team to build jaw-dropping, functional websites. By focusing on long term relationships, Box Clever has successfully provided its clients with online tools that suit their needs for over 7 years. To learn more visit http://boxclever.ca