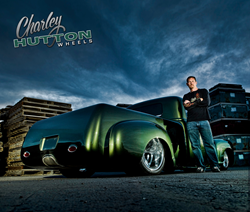 Santa Fe Springs, CA (PRWEB) November 04, 2012
Charley Hutton has chosen Boyd Coddington Custom Alloy Wheels to manufacture his new line of signature series wheels implementing new highly dimensional designs, combined with the best materials and craftsmanship giving the Charley Hutton Wheels the look of one-off wheels without the price tag. Hutton Wheels are made in the USA, to the same exacting standards of all American Republic Wheels products.
About Charley-Hutton—Charley Hutton is one of the most talented automotive painters and fabricators in the world today. Well-known in the custom car world for his work on high-end street rods, the high standards Charley sets for himself shows in the cars he produces, and have won him national recognition, including two Ridler Awards, several Street Rod of the Year and Custom Rod of the Year awards, as well as the prestigious America's Most Beautiful Roadster Award. Charley was responsible for painting and fabricating some of the top hot rods to emerge from Boyd Codington's shop, including the 1938 Lincoln Zephyr-"Led Zephyr", 1930 Delahaye- "Whatthehaye", 1965 Mustang-"Crazy Horse", 1956 Chevy-"Junk Yard Dog" and Gil Losi's "Boydster II". Now, you can expect to see the next generation of super rods emerging from Charley's shop as he makes his mark on the industry. "I am very excited that we have created this hot rod and muscle car wheels alliance, we will be able to provide the art of design and cutting edge manufacturing technology," said Charlie Hutton, Owner of Charley Hutton's Color Studio.
About the Manufacturing Process--Only the best materials go into the Hutton Wheels. We start with 6061 T6 aluminum for every wheel application. Depending upon your design and needs, we use a plate or an aluminum forging to start the process. The profiles are carved on the lathe and then it moves to the CNC Mill for the precision machining of the design.
Contact: Boyd Coddington Companies
About Boyd Coddington