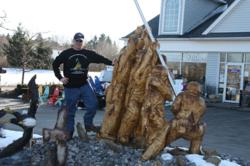 I was tired of seeing chainsaw artists always sculpting bears with their chainsaws, so I wanted to create something different
Elma, New York (PRWEB) November 04, 2012
November 10th and 11th will kick off the Made In America Store's annual Veteran's Day Weekend. Among all the festivities, Matt Hannah will be doing live performances, sculpting wood with his hand chainsaw.
Matt Hannah's unique business, Insane Chain, sculpts beautiful images into logs, tree trunks and any kind of wood he can get his hands on. Matt has been working with the Made In America since the initial opening and ever since, people know him by name.
The event at the Made In America Store will start Saturday, November 10th and 11th from 11am to 3 pm and Matt Hannah will be demoing both days. Grilled Hot Dogs will be for sale all day and Veterans will get theirs for free. U.S. Military Veterans and Active Duty Personnel that visit the store will receive their entire purchases at 10% off. Valley Forge 3'x5' American Flags will also go on sale all weekend long and be offered at $20.00.
Consumers who cannot get to Elma, New York to honor Veteran's Day can still get their Valley Forge Flag with $10 off by visiting http://www.MadeInAmericaStore.com and use promotion code "Flag10" at the checkout screen!
The team behind the Apple Cider Syrup will setup a vendor tent pushing their unique Apple Cider Syrup. Consumers can visit the kiosk for free samples and information on how it's made.
Lastly, the Made In America Store will be picking their winner of the "Free Yuengling For A Year" promotion for Veterans that Sunday.
Consumers that are unaware of the "Free Yuengling Beer For A Year" promotion can click here to find out more information!
Matt Hannah is a former US Marine who came home to an economy that was less than stable. Mark Andol, Owner and Creator of the Made In America Store, offered Hannah the job of performing live chainsaw demonstration after seeing some of his artwork Hannah had created. Since 2010, Andol and Hannah have brought wooden sculptures to life at each of the store's events.
Since joining the Made In America Store, Hannah has sculpted Guitar Tributes, American Eagles, Jack-o'-Lanterns, 7 Piece Benches, Underwater Shark & Coral Sculptures and so much more. At the Elma, New York location sits a giant wooden sculpture of the Flag Raising at Iwo Jima in front of the store. The sculpture received so much positive feedback that two US Marines that were actually on Iwo Jima during the Flag Raising were invited to the store to see the memorial. The memorial sculpture brought a tear to one of the Marine's eyes.
"I was tired of seeing chainsaw artists always sculpting bears with their chainsaws, so I wanted to create something different," says Hannah, whose been sculpting for the Made In America Store for two years.
Since opening in April of 2010, the MADE IN AMERICA STORE has re-captured the spirit of American manufacturing…selling only products that are 100% American-made and creating American jobs in the process.
It has become a movement and a symbol of America's resurgence, garnering international media attention and busloads of customers from across the country.
The Made In America Store is the only brick and mortar store that sells 100% made in the United States products from over 350 vendors. Consumers can visit http://www.MadeInAmericaStore.com or call 716-652-4872 to get more information or shop our catalog of over 3,500 items. Both Active Duty Military Personnel and U.S. Military Veterans receive a 10% discount every day. Followers of the "Made In America" movement can keep updated with the Made In America Store through Facebook, Twitter, Google+, Pinterest, FourSquare and even their own blog on Wordpress!