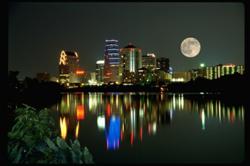 Austin City Vacation Rental on Bobzio.com
Austin City Texas (PRWEB) November 06, 2012
Lazy Lane a Austin City Home Swap is a cozy 2 bedroom, 1 bath home built in 1959 in the Music Capital of the World! House is all on one floor with a covered carport for one small car leading into the house through the kitchen door. Inside has all been updated with ceramic hardwood appearing floors (pretty indestructible), granite kitchen counter tops and new appliances including the ac/heat central unit. Interior is comfortably decorated with leather couches and TV entertainment center in living room (no cable - just local antenna available channels), extra room in rear of the house serves as a den with computer and bookshelves along with access to the back porch and yard. Owner has photos and info on the listing. Visit the listing on http://www.bobzio.com to contact the owners. Remember vacation home owners can join and get free lifetime listings now.
Bobzio.com, being a co-op, is owned by the members. The ownership role will be determined when the first 20,000 have joined. There will not be a better time to get in on an opportunity like this that could save up to $1,000 each year in subscription costs. The website also offers training on techniques to increase internet marketing exposure for individual listings and tips to get photos and videos to show up in some of the major internet search engines. Jump on board. The sooner the better. To see an example of a free listing visit http://www.bobzio.com/view_property_details.php?title=Cape-San-Blas-Vacation-Rental-Bayrock-2-on-http://www.Bobzio.com--6080-Cape-San-Blas-Rd,-Port-St-Joe,-Florida-&pro_id=25.
Bobzio.com has created several strategic partnerships to assist with marketing and management of Vacation Rentals. Paypros.com, provides credit card and e-check processing. Call Jared to set up an account 800-774-6462 ex 6615.
DirectPlacement.co for help with Search Engine Placement (SEP). Visit DirectPlacement.co and ask about search engine placement (SEP) for the bobzio.com vacation property listing or home exchange. Adam, the owner, is very knowledgeable about SEP and personable in his approach. There are no long term commitments or contracts to try DirectPlacement.co services.
The second strategic partnership is with Alan Lane, owner of DepositGuard.com. DepositGuard.com makes it possible for the individual owner to accept credit card payments and bank transfer checks. The fees are minimal and paid by the renter. The renter gains the security of an escrow agent safeguarding their rental deposits. A second option is using Dwolla.com. They offer accounts that do electronic payments using the internet and Cell Phones. There service costs 25 cents a transaction. Both DepositGuard.com and Dwolla.com will be common names in the future but now they are getting started just like Bobzio.com.
Here is a link to a YouTube video showing how easy it is to start a listing: http://youtu.be/qOwKNH0c7Gg