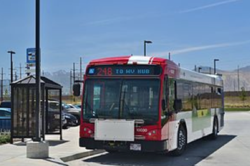 Taylorsville, UT (PRWEB) November 03, 2012
Salt Lake Community College has launched a campus shuttle service. Called the B-Line, the inter-campus shuttle connects the College's South City, Meadowbrook, and Taylorsville Redwood campuses. The College provides this service for free to all SLCC students and employees. All patrons must provide SLCC identification to ride.
The shuttle leaves South City Campus at the east entrance on the hour beginning at 7:00 a.m. on all weekdays for which the College is open. The shuttle route runs from the South City Campus to the Meadowbrook TRAX station, then to the Utah Transit Authority bus stop on the north side of the Taylorsville Redwood campus. runs until 8:00 p.m. Monday through Thursday, and until 2:00 p.m. on Fridays.
The College also provides a 'Shuttle Tracker' that lets riders track the location of the shuttle in real time online. For desktop users, the link is: http://www.slccbus.com; riders with mobile devices can use the link: http://www.slccbus.com/m.
Ridership will be tracked to determine whether to expand the shuttle to the College's other campuses.
About the College: Salt Lake Community College is an accredited, student-focused, urban college meeting the diverse needs of the Salt Lake community. Home to more than 62,000 students each year, the College is the largest supplier of workforce development programs in the State of Utah. The College is the sole provider of applied technology courses in the Salt Lake area, with 13 sites, an eCampus, and nearly 1,000 continuing education sites located throughout the Salt Lake valley. Personal attention from an excellent faculty is paramount at the College, which maintains a student-to-teacher ratio of less than 20 to 1.
For more information, contact the SLCC Campus Card Office at 801-957-4532.