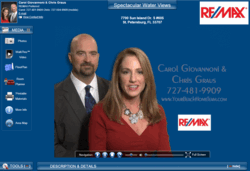 I was floored when I saw the new video feature! You have surpassed my expectations and I now declare my Bucket List void!
-Jim Rogers,
Realty Executives - Lake of the Ozarks
Seattle, WA (PRWEB) November 07, 2012
FloorPlanOnline has made significant system enhancements to its virtual tour system with new features such as agent bookend videos and real video clips, floor plan drawing tools, and WordPress and Craigslist content distribution. Each feature is described in more detail below.
In addition, the company announces a program to help Hurricane Sandy victims. Over the years, FloorPlanOnline has created a lot of virtual tours in the in the New York, New Jersey and Connecticut areas that include both the photos and the floor plan of a home. FloorPlanOnline is making a copy of any past tour available for free to any homeowner. The tour can be used for insurance purposes to show the "before" view of the property. In order to make a request, please visit the website and complete the form, located at http://floorplanonline.com/hurricane-sandy-victims/
The enhancements to the virtual tour platform include the following:
-Agent Bookend Videos and Clips.
This new feature allows agents to upload profile videos and short video clips to make custom videos using both still photos and video clips. The profile video feature allows users to upload both an introductory video to introduce listings, as well as a closing video, that allows the user to thank people for viewing the video. These are called "bookend" videos. In addition, users can upload short in-line video clips. For example, want to show a fountain or a speeding boat moving across the water? No problem, just take a video, upload it, and insert it into the desired position with other photos. It is a great way to create a truly unique video at a very competitive price. These videos can be added to branded or unbranded videos and included in the YouTube video and mobile tour. These enhanced video tools are available at no additional charge to all users. To see an example visit http://www.seetheproperty.com/102379, provided courtesy of Best View Photography. http://www.bestviewphotography.com
-Draw Floor Plans.
Subscribers now have 4 ways to add floor plans to their property websites - upload an image and use as is; upload a draft sketch or architectural plans and we can clean them up; order a full service online drawing; or now, use the drawing tool to draw the floor plan. With the drawing tool, a user can draw floor plans and instantly add them to their virtual tour, property flyer and more within minutes. This new feature includes built-in 2D and 3D floor plans and room planner tool, as well as photo-realistic images. This feature is available as a $10 per tour upgrade for any subscriber to the FloorPlanOnline TourProducer Subscription program.
-Enhanced Tour Distribution Options
Now anyone can embed the complete tour, or selected parts of it, in any website using the enhanced embedded content tool. If a website is built using WordPress, agents can use the plugin to simplify the whole process too. This new tool allows users to put the tour content on any page or post so it keeps users on site. Choose from an embedded content view, or show it as a button to pop the tour over a website. Either way, the user stays on the agent's website. To see an example, visit http://kansascitylifestyles.com/2012/07/awesome-listing/
FloorPlanOnline also added a Craislist ad poster tool. With the tool, users can create an advertisement on Craigslist.org for a listing. It includes photos, text and a button to the virtual tour.
These enhanced Tour Distribution Options are available at no additional charge to all users.