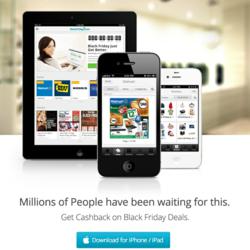 After 24 hours the app ranks as the #1 free Lifestyle app
(PRWEB) November 05, 2012
On November 1, 2012, BlackFriday.com released their 'Black Friday Shopping' app, available for Apple iPhone and iPad mobile devices, and after only 24 hours the app ranked as the #1 Free Lifestyle app in the United States and the #12 Free app overall.
The app was released with emerging mobile trends in mind. More and more shoppers turn to their mobile device as a tool for not only buying online, but also for comparison shopping, price-checking, redeeming coupons, and researching products. Although it's clear that mobile sales are on the rise – consider that 9.8% of Black Friday online sales were made on a mobile device in 2011 compared to 3.2% in 2010 – it's also apparent that shoppers are using their devices for more than just adding items to their cart. According to the National Retail Federation, last Black Friday weekend 31.8% of smartphone users reported they used their device to research and compare prices, and only 13.7% bought.
With the 'Black Friday Shopping' app users can quickly and easily buy online. However, users also have access to the Cashback loyalty program, their Wishlists, and can save even more with coupons and daily deals. The Cashback program extends to over 1200 stores and puts a percentage of their purchases right back in their pocket, and the Wishlists make it easy for the user to organize items and compare prices.
Whether the shopper is on their mobile device or shopping from home, BlackFriday.com still offers targeted local deals, and is a trusted resource for breaking Black Friday ads. This year BlackFriday.com will begin offering their service year-round.
About BlackFriday.com
BlackFriday.com is a one-stop destination for everything shoppers need for the Black Friday season and throughout the year. From early access to Black Friday ads to bargain-hunting tips to the best deals from top retailers, BlackFriday.com is the ultimate resource for the nation's biggest shopping day. BlackFriday.com has over 1 million Facebook fans, 3 million subscribers, and expects to drive more than 5% of all online sales on Black Friday 2012.