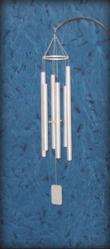 A lot of friends and family members of gardeners have already started buying wind chimes and ordering engraving services for delivery this Christmas.
San Diego, California (PRWEB) November 10, 2012
Eco Wind Chimes has the perfect Christmas gift for people who like to garden. The company has a variety of American made and sourced wind chimes. There are close to a million websites selling wind chimes related to a simple "gift for gardeners" Google search. Eco Wind Chimes not only has beautiful wind chimes that will last a lifetime, the company also promotes sustainable products that are Earth friendly- a concept many gardeners are in-tune with.
"Eco Wind Chimes knows our clients. Many people like buying wind chimes to give as gifts. And, the 2012 holiday season is upon us. Gardeners will love our wind chimes because they are American sourced and have a pleasant tone, especially when working outside in a patch of herbs or blooming flowers," said Stephen Betzen, Owner. "Our wind chimes can be personalized too. We offer engraving services such as "best gardener on the planet," or "Mom, Merry Christmas 2012."
Holiday shoppers looking to buy wind chimes online have a great resource with Eco Wind Chimes. "Cyber Monday is coming up soon and we have already seen an increase in online shoppers for this year's holiday buying season," continued Betzen. "I'm hopeful we still have a wide-variety of weather-sustaining wind chimes left for those waiting for Cyber Monday to do their shopping. A lot of friends and family members of gardeners have already started buying wind chimes and ordering engraving services for delivery this Christmas. Anyone interested in reserving their wind chime gifts should do so now." Gifts can be ordered simply by clicking here: http://www.ecowindchimes.com
Eco Wind Chimes was launched in 2005. The soothing products produced by Eco Wind Chimes match the company's dedication to quality workmanship, affordability, and purposeful retail. All Eco Wind Chime products are made, and sourced, in the USA. More information, and a media kit, can be found by clicking here: http://www.ecowindchimes.com/articles.asp?ID=1