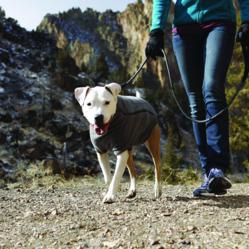 According to the American Humane Association, "Americans spend about $5 billion on holiday presents for their companion animals."
Bend, Oregon (PRWEB) November 12, 2012
Bend, Ore. (November 12, 2012) - Ruffwear, the leading producer of high performance dog gear, unveils new winter gear for holiday wish lists including an updated version of the popular Climate Changer™ Fleece Dog Jacket. Updated gear for the leash and collar line includes: a redesign of the Knot-a-Leash™, an updated Just-a-Cinch™ Leash and the new Knot-a-Collar™. This line of new products is available through specialty pet and outdoor retailers as well as through http://www.ruffwear.com.
Pet Industry Spending is Up and Dogs Are Hitting the Road This Year
According to the American Pet Products Association (APPA) 2011/2012 National Pet Owners Survey, overall spending in the pet industry was at an all-time high in 2011, surpassing $50 billion. The APPA projects a steady 3.8 percent growth rate through 2012, with nearly $53 billion in overall pet spending.
The National Pet Owners Survey also clearly showed that dogs are hitting the road more than ever with their families. On average, each dog has been taken on five car trips according to APPA. Ruffwear encourages outdoor dog adventures, and with their new gear for the Fall/Winter season, hopes to inspire more outdoor human-dog adventures.
Dogs stay warm and comfortable when it's cold outside with Ruffwear's recycled fleece dog jacket
When seeking the perfect gift for four-legged friends that love outdoor adventures all winter long, Ruffwear's Climate Changer Fleece Jacket is a great option to consider.
*Climate Changer - new colors have arrived for this cozy, eco-sensitive, recycled fleece jacket! The quick-drying, breathable Climate Changer fleece jacket is now available in Burnt Orange, Purple Dusk and Granite Gray. MSRP: $59.95.
More practical gift ideas from Ruffwear:
An increasing number of families are shopping for gifts for their dogs, and Ruffwear offers a wide selection. These make great stocking stuffers and are all under $30:
*Knot-a-Collar - Designed from low-profile, 7mm kernmantle rope, the Knot-a-Collar settles comfortably into fur and features unique Ruffwear-designed hardware. It's available in Twilight Gray, Purple Dusk, Red Rock and Lichen Green. MSRP: $22.95.
*Knot-a-Leash - Made from the same strong Kernmantle rope construction as the Knot-a-Collar, this leash features a strong, secure locking carabiner for attaching to dog's collar. It's also available in Twilight Gray, Purple Dusk, Red Rock and Lichen Green. MSRP: $29.95.
*Just-a-Cinch - Available in fresh new colors, the Just-a-Cinch Leash has a comfortable, easy-to-hold tubular webbing handle and is available in Twilight Gray, Purple Dusk, Red Rock and Lichen Green. MSRP: $24.95.
About Ruffwear
Ruffwear's mission is to build performance product to enhance and inspire outdoor adventures for dogs and their human companions. Ruffwear Performance Dog Gear™ combines technology, quality, fit, function, and safety to meet the needs of active and adventurous canines and their humans.
Ruffwear is committed to preserving open lands and waterways, providing important habitat for wildlife and recreational opportunities for humans and canines. Through partnerships with The Conservation Alliance and regional grass roots organizations, Ruffwear is able to give back and create opportunities to strengthen the bond between humans and their dogs.
Based in Bend, Oregon, Ruffwear sells their products through specialty pet and outdoor retailers as well as http://www.ruffwear.com. Find Ruffwear on Facebook, http://www.facebook.com/ruffwear and on their Dog Blog, http://dogblog.ruffwear.net, and on Twitter, http://twitter.com/ruffwear.
###