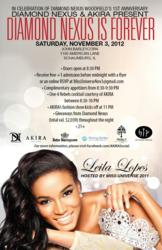 With the flagship store, we have given the public a completely satisfying way to shop for luxurious jewelry
(PRWEB) November 03, 2012
Diamond Nexus invites customers to their Woodfield Mall retail location for the one-year anniversary with in-store specials and giveaways. The day is highlighted by a visit from Miss USA 2012, Olivia Culpo. She will be available from 4-5pm for photos and autograph signing with fans.
"We are so excited to be celebrating our Diamond Nexus store's one year anniversary. With the flagship store, we have given the public a completely satisfying way to shop for luxurious jewelry. For those wanting the look of diamonds without the price tag, it is possible with Diamond Nexus," commented Kyle Blades, Director of Marketing.
The day includes welcoming the winner of the Diamond Nexus grand prize Makeover Contest to the store. She will be treated to a complete makeover, with jewelry from Diamond Nexus and clothing courtesy of AKIRA.
The main event will be co-hosted by Diamond Nexus and AKIRA at John Barleycorn in Schaumburg, IL. Complimentary appetizers will be served from 8:30 to 9:30pm with one free 4 Rebels cocktail per person, courtesy of AKIRA. AKIRA will also be presenting a live fashion show at 11pm. Hair Innovation Professionals Salon is providing hair and makeup.
Miss USA 2012, Olivia Culpo will be hosting the event and taking photos with fans from 9:30 to 10:30pm. DJ LA Riots will be providing entertainment. Diamond Nexus will be giving away free jewelry throughout the night.
To join Diamond Nexus and AKIRA for this event, admission is free before midnight with a flyer or by registering online to RSVP at MissUniverseNov3 (at) gmail (dot) com.
John Barleycorn is located at 1100 American Lane, Schaumburg, IL. Doors open at 8:30pm. To get more information on the Diamond Nexus stores, visit this link: http://www.diamondnexus.com/customer-service-retail-locations.html
Diamond Nexus was founded in 2004 with the purpose of bringing to the public the powerful benefits of the lab-created diamond simulant revolution. They have over 250,000 customers worldwide that have awarded them an "A+" rating with the BBB, and are the ninth largest online jewelry retailer in America according to the 2011 IR500 list. For two years in a row brides from The Knot have selected them as their Best of Jeweler. Diamond Nexus currently has two retail locations: their flagship store at Woodfield Mall in suburban Chicago, Illinois, and a second store at Mayfair Mall in Milwaukee, Wisconsin. In 2009 the company was named the official jeweler and crown maker of the Miss Universe Organization as part of NBC/Universal's "Green is Universal" environmental initiative.