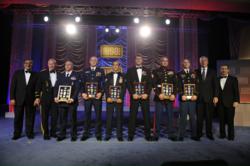 Right now my son is coming back from Afghanistan and I know that somewhere along the way the USO will help him make it home," said Dempsey
Arlington, Va (PRWEB) November 03, 2012
An estimated 1,100 guests—including Department of Defense leaders Defense Secretary Leon Panetta and Chairman of the Joint Chiefs of Staff Gen. Martin E. Dempsey—gathered to pay special tribute to our men and women in uniform Friday night at the 2012 USO Gala. The theme, Honoring those who Serve, was brought up several times during the night, where the USO honored its six Service Members of the Year, its Volunteer of the Year and Adm. Mike Mullen (Ret.) and his wife, Deborah, who received the Spirit of the USO Award.
FOX 5 Morning News anchor Allison Seymour was the mistress of ceremonies and the crowd was entertained by actress/recording artist Jordin Sparks. Esteemed guests included military leadership, Washington dignitaries, celebrities, members of Congress, members of the USO Board of Governors and USO Corporate sponsors.
Opening remarks were given by USO President and CEO Sloan Gibson and focused on the USO's mission to support America's troops and their families.
Mr. Gibson defined the USO of the 21st century and beyond: "There are countless organizations out there doing great work, and we partner with many of them. But no other organization has our scope and scale, or is as well positioned as the USO to meet the wide array of needs facing troops and their families today. As we look to the future, we know the men and women serving our country and their families will continue to face challenges and we will continue to help them meet those challenges. We will be there for them, no matter what. That's today's USO."
"Sometimes, people ask me why we are so focused on wounded, ill and injured troops, and families of the fallen," Gibson said. "Troops and family members told us through our annual TellUSO survey last year that supporting wounded troops and families is the most important thing we do – more important than entertainment, than care packages, or free phone calls home."
Closing the first half of the program was actress/recording artist Jordin Sparks. A USO tour veteran, Sparks went on her first USO holiday tour last December with Chairman of the Joint Chiefs of Staff Gen. Martin E. Dempsey. Sparks offered her thanks to the men and women in uniform and their families and performed three of her popular hits: "Battlefield," "One Step at a Time" and "No Air."
Between songs, Sparks shared a personal story of a close friend. "He went to Afghanistan last year and unfortunately he got hurt. He hit a roadside bomb and he went on to recover. ... The second time he got hurt a suicide bomber came in where he was recovering from the first bomb, and he blew up. … I know there are so many stories in this room like that and I just wanted to say 'thank you so much for your service.' He is now home and is doing really, really well. … But I am just so thankful that the USO has been around and it's been able to give these soldiers a place to go and welcome them back with open arms."
Dempsey reflected on his career and the personal impact the USO had on him during his military service.
"Right now my son is coming back from Afghanistan and I know that somewhere along the way the USO will help him make it home," Dempsey said. He then introduced the man he calls his "battle buddy," Defense Secretary Leon Panetta.
"The USO has been a galvanizing force to turn that spirit of support for our military into benefits for our service men and women and their families. … I am deeply grateful to the tens of thousands of USO staff and volunteers who work tirelessly to support our troops," Panetta said. "You provide a welcome reprieve from tough deployment from arraigning world class entertainment like you saw tonight to sending care packages to providing a quiet space just to call home. On behalf of the Department of Defense I want to thank all of those who volunteer and work our USO tours and at USO centers here at home and around the world for all they do. And let me add my congratulations and thanks to the USO service members of the year who we will celebrate tonight."
The 2012 USO Service Member of the Year Honorees and the USO Volunteer of the Year:

Soldier of the Year: Staff Sergeant Jacob J. Perkins, C Troop, 1-89 Cavalry, Fort Drum, N.Y.
Marine of the Year: Sergeant Clifford M. Wooldridge, Training Company, Marine Corps Security Force Regiment (MCSFR), Naval Support Activity Northwest Annex, Chesapeake, Va.
Sailor of the Year: EOD2 (EWS) Gregory F. Gaylor, EODMU Three, Naval Base San Diego, Calif.
Airman of the Year: Staff Sergeant Christopher S. Beversdorf, Tactical Air Command and Control Journeyman, 25th Air Support Operations Squadron, Wheeler Army Airfield, Hawaii
Coast Guardsman of the Year: ME2 Nicholas A. Beane, Explosive Detection K9 Team, USCG Maritime Security Response Team Chesapeake, Virginia Beach, Va.
National Guardsman of the Year: Senior Airman Evan J. Stevens, 183rd Fighter Wing's Security Forces Squadron, Abraham Lincoln Capital Airport, Springfield, Ill.
USO Volunteer of the Year, Army Sgt. Richard Schuh, USO Kandahar
The USO also honored the 17th Chairman of the Joint Chiefs of Staff Adm. Mike Mullen, USN (Ret) and Mrs. Deborah Mullen as this year's Spirit of the USO Honorees. The Mullens were honored for their illustrious military career and staunch support of troops and military families. They were surprised by a special tribute video by entertainer and USO tour veteran Robin Williams.
"We are here to celebrate two very dear friends of mine. Not just because they are friends of mine but because of their extraordinary dedication and service to our troops and their families both here and abroad. Admiral Mike Mullen and his wife Deborah Mullen or, as I refer, to her after thousands and thousands of miles of traveling together, 'Mom,'" Williams said. "We visited five continents on four USO Chairman Holiday tours, the emotional highs and lows of these trips were remarkable each trip was a unique experience. … So Chairman and Mrs. Mullen, I thank you for your leadership, commitment, service and your friendship."
Mrs. Mullen said she was humbled by the USO award, "It's an honor for us to be recognized with the Spirit of the USO Award, but really, when you think about it, the heart and the soul and the spirit are really all the staff and volunteers, who are serving around the world, around the clock and at installations and airports. They're in harm's way and they're the ones really we need to recognize and never forget their selfless work that they do on behalf of our troops, our families and the families of the fallen."
Admiral Mullen reflected on his deep connection with the USO. "We've watched up closely and very personally the USO for decades, affect our lives, but more importantly, affect the lives of those we care about the most, both in peace and in war and at the most difficult times and if I were going to sum it up in so many ways, it would be to bring that smile, that support, that little piece of home into the hearts and souls of those who serve around the world and do so, so nobly, for so long."
Additional special guests, presenters and USO tour veterans paying special tribute to the troops included The Dallas Cowboys Cheerleaders, who are slated to embark on their 75th USO tour later this year; famed cartoonists from the National Cartoonists Society Chip Bok and National Editorial Cartoonist Bruce Higdon; and Pro Football Hall of Famer/former San Diego Chargers tight end Kellen Winslow.
Following the ceremony, guests gathered for a special late night treat by celebrity chef Jennifer Behm, Winner of FOX Television's "MasterChef" Season 2. Behm, owner of owner of Pink Martini Catering in Delaware, also created a pomegranate lemonade specialty cocktail for the evening.
Special recognition goes to TriWest Healthcare Alliance, the Chairman sponsor of the 2012 Gala and additional sponsors included:

Vice Chairman: Chevron, jcpenney, Procter & Gamble
Three Star: Express Scripts Federal Pharmacy Services, Huntington Ingalls Industries, Northrop Grumman Corporation
Four Star: Military.com
For more information about the 2012 USO Gala, honorees and featured stories visit http://www.uso.org. For 2012 Gala press kit please visit: http://bit.ly/RA8xTt.
# # #
About the USO
The USO (United Service Organizations) lifts the spirits of America's troops and their families millions of times each year at hundreds of places worldwide. We provide a touch of home through centers at airports and military bases in the U.S. and abroad, top quality entertainment and innovative programs and services. We also provide critical support to those who need us most, including forward-deployed troops, military families, wounded warriors and their families and the families of the fallen.
The USO is a private, nonprofit organization, not a government agency. All of our programs and services are made possible by the American people, support of our corporate partners and the dedication of our volunteers and staff. In addition to individual donors and corporate sponsors, the USO is supported by President's Circle Partners: American Airlines, AT&T, Clear Channel, The Coca-Cola Company, jcpenney, Kangaroo Express, Kroger, Lowe's, Northrop Grumman Corporation, Procter & Gamble, and TriWest Healthcare Alliance and Worldwide Strategic Partners: BAE Systems, The Boeing Company, Lockheed Martin, Microsoft Corporation and TKS Telepost Kabel-Service Kaiserslautern GmbH & Co. KG. We are also supported through the United Way and Combined Federal Campaign (CFC-11381). To join us in this patriotic mission, and to learn more about the USO, please visit uso.org.