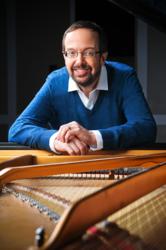 The sounds of Christmas and the piano have been at the center of my musical life for as long as I can remember.
Minneapolis, MN (PRWEB) November 04, 2012
Pianist and composer Kevin Kern has launched his own label, Kevin Kern Music, with his first release in time for the holiday season. After ten successful CDs with Sausalito-based Real Music, Kern announced the formation of Kevin Kern Music, his new independent label with the release of his first holiday CD, a collection of sixteen traditional carols simply titled, Christmas.
"The traditional melodies of the holiday season have always held a special place in my heart. I was born just before Christmas, and 'Silent Night' was the very first song I learned to play," says Kern.
Christmas is a solo piano collection recorded on an inspiring Steinway Grand piano in Kern's unmistakeable style. The selections range from the simplicity of "What Child is This" to the hauntingly beautiful, "Lo, How a Rose E'er Blooming." Kern harkens back to his earliest days, closing the collection with "Silent Night," the song that began his musical journey at the tender age of eighteen months.
A native of Detroit, Kevin Kern has played the piano his entire life. Though legally blind from birth his exceptional talent soon became clear.
Six Billboard® charting releases have established Kern as one of the genre's most successful composers and performers. A growing list of international film and TV credits has also helped him to garner a worldwide following. His music has been featured in film and television in the United States in programs as diverse as Oprah, Live with Regis and Kelly, and The Late Show with David Letterman. His international film and television credits include notable contributions to the score of the highly successful Korean drama "Autumn in my Heart", (which in itself has garnered a worldwide following) as well as the popular Mitsubishi SAVRIN theme in Taiwan among a host of others. Kern's concert tours have taken him throughout the United States, Korea, Japan, Singapore and Taiwan. Highlights include touring with "Britain's Got Talent" winner, Paul Potts and a special performance for the G20 Summit in Seoul in 2010.
Christmas is available online at KevinKern.com, iTunes, Amazon, CDBaby and fine music retailers worldwide. To learn more about Kevin Kern, visit his website at: http://www.kevinkern.com