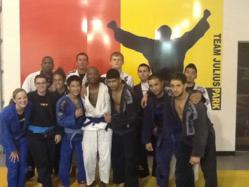 "I've been to wrestling events that are bigger than this venue, I'm just anxious to scrap." - Peter Petties
Columbia, MD (PRWEB) November 06, 2012
Peter Petties is a former standout wrestler from Oakland Mills High school where he amassed over 100 career victories in three years will be fighting at Louis Neglia's Combat at the Capitale 29 in November.
The event, taking place in New York, NY, will be one of the biggest venues that the Columbia resident has competed at in kickboxing.
Peter is unconcerned being on the big stage stating "I've been to wrestling events that are bigger than this venue, I'm just anxious to scrap."
Overall this is a big opportunity for Peter who is trying to refine his striking skills to later compete in Mixed Martial Arts (MMA). By competing in pure striking, the experience gives him an edge up on competition mentally in MMA. This is a unique system that Crazy 88 / Lloyd Irvin Mixed Martial Arts schools implement to help the development of their fighters.
Combat at the Capitale is the perfect venue to sharpen the striking skills and test the competition in New York City.
Combat at the Capitale, put on by Louis Neglia is a premier kickboxing promotion, known for constant action. Louis Neglia's accolades include 3 world titles in kickboxing where he also put together a record of 34-2 before retiring from competition in 1985. The promoter has been around the fighting community for around 30 plus years. Louis Neglia currently runs Ring of Combat which is known for being a consistent provider of fighters from the east coast into the UFC. Combat at the Capitale 29 is going to be a great night for the Crazy 88 striking team