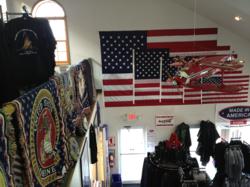 You should be proud to fly the American flag and not feel guilty of where it was made by buying a US manufactured one
(PRWEB) November 05, 2012
The all American made products store is selling their 100% US manufactured American Flag for only $20.00. That's $10.00 of the normal price of the Valley Forge Flag. The Made In America Store is giving this special offer in light of Veteran's Day.
The American flags from Valley Forge are made with Perma-Nylon and each stripe is sewn on individually. With brass grommets and embroidered stars, the flag both holds its color and durability. Consumers looking to replace or purchase a new American Flag can rest assured knowing that Valley Forge brings the utmost quality and durability.
The Made In America Store offers a wide range of flags from Valley Forge ranging from smaller 2 foot by 4 foot American Flags to each branch of the Military 3 foot by 5 foot Flags. The special promotion from the Made In America Store gives the 3'x'5 American Flag from Valley Forge for $20! A $10 discount from the original with special promotion code or all Veteran's Day Weekend!
Get your 3'x5' Valley Forge American Flag from the Made In America Store by using promotion code "FLAG10" at the checkout screen! Visit http://www.MadeInAmericaStore.com to purchase your 100% American made products!
Veteran's Day gives people a moment to remember those brave men and women who made the choice to put their lives on the line for their country. The Made In America Store honors their Veterans by offering a discount to them every day. Any Active Duty Military Personnel or Veterans get a 10% discount off their entire purchase every day.
"The flag represents our country and freedom, when people buy flags from overseas, their making a statement about their purchase without even knowing it," said Mark Andol, owner of the Made In America Store. "You should be proud to fly the American flag and not feel guilty of where it was made by buying a US manufactured one."
Founded in 1882, Valley Forge Flag Company, Inc. remains to this day, a family-run business. Beginning as a burlap-bag business that later sold World War I surplus, including U.S. flags, the company has evolved and grown through four generations.
During the Depression Era, the company opened its first small sewing factory in Spring City, Pennsylvania to meet the increasing demand for U.S. flags, giving a formal beginning to the Valley Forge Flag brand.
To receive your discount, user promotion code "FLAG10" at the checkout screen at http://www.MadeInAmericaStore.com!
World War II brought an unprecedented demand for U.S. flags. Military and other government contracts soon became the Company's core business and remains a strategically important part of that business today. Over the years, as consumer demands have changed, so has Valley Forge Flag's business. After World War II, sales through commercial flag dealers and mass-market retailers became increasingly important.
Valley Forge Flag Company continues to grow and flourish, employing well over 300 people. Headquartered in Wyomissing, Pennsylvania, Valley Forge Flag manufactures and distributes its products from state of the art facilities throughout South Carolina. Valley Forge Flag Company continues its commitment to provide high-quality flags exemplifying our country's national honor and spirit, raising its colors to express respect and pride for our American way of life.
The Made In America Store is the only brick and mortar store that sells 100% made in the United States products from over 350 vendors. Consumers can visit http://www.MadeInAmericaStore.com or call 716-652-4872 to get more information or shop our catalog of over 3,500 items. Both Active Duty Military Personnel and U.S. Military Veterans receive a 10% discount every day. Followers of the "Made In America" movement can keep updated with the Made In America Store through Facebook, Twitter, Google+, Pinterest, FourSquare and even their own blog on Wordpress!