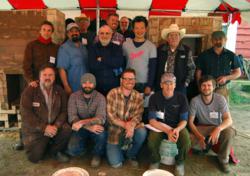 Little Switzerland, North Carolina (PRWEB) November 13, 2012
The Masonry Heater Association of North America (MHA) is proud to annouce a second Heater Mason's Education and Developement (HMED) class. On April 15th, MHA is begin its annual meeting at Wildacres Retreat, Little Switzerland, NC. At that time Bricklaying 101 will be introduced and offered to attendees.
The class, Bricklaying 101, will consist of both classroom and hands-on instruction. It is designed to cover the following subjects plus much more.
-terminology and acronyms
-identify and use of various tools
-types of mortars
-proper trowel techniques
-examine architect and engineering plans
-calculate coursing to establish heights
-describe various masonry bonds
-safety hazards
-plus more topics
About the Masonry Heater Association (http://www.mha-net.org)
The Masonry Heater Association of North America is a non-profit organization dedicated to serving the interests of the masonry heating industry. Founded in 1987, MHA is an association of builders, manufacturers and retailers of masonry heaters.
Masonry Heater Builders learn their trade from each other, from the "old country" masons and through MHA-sponsored workshops and seminars.
In 1998, the MHA established a certification program for masonry heater builders. To earn their certification, each craftsman is required to demonstrate a working knowledge of masonry work, masonry heater design and construction, and relevant housing and fuel-burning regulations.
In 2020, MHA established a curriculum driven education program known as the "Heater Mason's Education and Development" program. Presently there are two classes being offered: "Basics and Theory of Masonry Heaters 101" and "Bricklaying 101". These classes are taught in Canada and the United States.
For more information please contact the MHA office: http://www.mha-net.org
Contact the Masonry Heater Association's Office for more information.