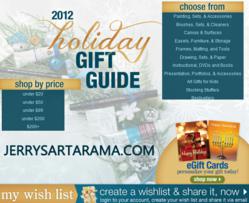 Raleigh, NC (PRWEB) November 06, 2012
This week marks the beginning of the 2012 Holiday Sale at JerrysArtarama.com, where artists can find more fine art supplies at discount prices than ever before. Jerry's Artarama has specialized in providing artists with high quality art materials at excellent savings for over 40 years, and this holiday season is no different.
Customers all over the country will be receiving the new Jerry's Artarama Holiday Sale catalog in the mail, and can also view it online in a digital flipper version. Hundreds of paints, canvases, brushes, pencils, pastels, art kits and more are all on sale for low holiday prices, perfect for stocking up on artistic gifts. Exciting new art materials are also available, with brand new products from popular manufacturers like LUKAS, Winsor & Newton, Williamsburg, Golden, Daler-Rowney, Speedball, First Impressions, Creative Mark, Fredrix, Ampersand, Strathmore, Prismacolor, Jullian and many more. In addition, Jerry's has put together custom gift sets for beginners and professionals in watercolors, acrylics, and oils – making it even easier for non-painters to find the perfect gift for their artist friends.
This year's Holiday "Gifts for Artists" Sale also marks the last round of Jerry's $1000 Year-End Giveaway event, where participants can answer questions online and be entered to win prizes including art supplies, an iPad2, and the grand prize of $1,000.00. No purchase is necessary for entry into the Giveaway; participants are simply required to answer various questions pertaining to information in the sale catalogs or on the website, with each correct answer earning them points. The more points participants have, the more chances they have to win. The final round of the Giveaway concludes on December 12th, 2012, and the winners will be announced the following week.
In addition to fun contests, new art supplies and great savings, Jerry's Artarama is also introducing its new Frequent Buyer Shipping Program, a convenient, innovative offering designed to reward frequent shoppers. For $79.00, customers in the contiguous 48 United States will receive free standard shipping for a year from date of purchase, no matter the size of the order (excluding oversized shipment fees). If a painter runs out of one tube of color, or a pastel artist needs a replacement pastel, they can order small one-off items immediately without waiting to place an entire restock order, and without paying shipping charges that may be more than the order itself. This new program is simple, fast, and saves money – perfect for the professional artist in need of high quality art supplies at great savings.
For those looking to get a head start on holiday shopping, Jerry's Artarama has got it all: great gifts for artists at low prices, giveaways with fantastic prizes, and free shipping options for even bigger savings. The 2012 Holiday Sale begins now at JerrysArtarama.com, and lasts through the end of December.
JerrysArtarama.com Online Digital Sale Catalog: http://www.jerrysartarama.com/online-catalog/2012/artist-holiday-sale-create-your-season-bright.html
About Jerry's Artarama
Empowering artists for over 44 years. Jerry's Artarama prides itself on offering exceptional quality art supplies at everyday low prices. Providing artists with the best selection of paints, canvases, brushes, frames, papers, and art materials of all kinds is their passion and great service is their commitment.
MEDIA INQUIRIES
For JerrysArtarama.com
Michael Marchetta
1-800-U-ARTIST
mmarchetta(at)jerrysartarama(dot)com