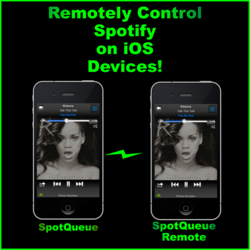 "Small things like this make my Sunday on a couch perfect."

"Awesome App!"

"Top notch and works great."
Boston, MA (PRWEB) November 05, 2012
Spotify is one of the most popular music apps for the iPhone. Streaming music via Spotify is a great way to listen to and explore music. However with Spotify for iOS it was impossible to remotely control the Spotify experience, until now. Introducing SpotQueue, the first and only iOS app for Spotify with built-in remote control.
Connect an iPhone, iPad or iPod Touch running SpotQueue to a stereo or powered speakers. Listen to existing Spotify playlists, create customized radio stations, explore new music, manage the song queue and more. Remotely control everything using a second iOS device running SpotQueue Remote from anywhere in the house!
It's fun to host a party, but hovering over the stereo to manage the music isn't ideal. Use SpotQueue Remote and have the freedom to mingle with guests and control the tunes at the same time. Manage playlists while socializing or handle song requests, and don't miss a thing. Or, set the mood at a dinner party without leaving the table.
Have a favorite artist or song but don't want to create a playlist? SpotQueue can create a custom "Pandora-like" radio station. Rate the songs playing to further customize the station, or save the songs in a Spotify playlist or starred playlist.
With its advanced queue management SpotQueue can create and manage the song queue on the fly. Add a new track or album to the queue with one tap. Insert a track, album or whole playlist into the queue and play immediately with two taps. Re-arrange the queue during playback, or save the queue as a Spotify playlist that can play on any device or desktop.
SpotQueue and SpotQueue Remote greatly enhance the Spotify music experience and look great on the iPhone 5's Retina display. Both apps are 100% ad-free and are available on the App Store now. Grab SpotQueue and SpotQueue Remote to enjoy Spotify in a whole new way.
Blue Atlas Technology has been developing iPhone Apps since 2008. Blue Atlas Technology's Tango Remote, is the #1 remote control app for iTunes music playing on the iPhone, iPad, and iPod Touch.