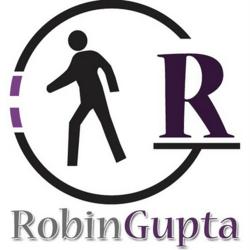 Brain Behind Your Business!
Sri Ganganagar, Rajasthan (PRWEB) November 22, 2012
After gaining years of experience in Internet marketing field, Robin Gupta is now offering high-quality backlink building and latest search marketing packages to combat the Google's onslaught, help the business owners in accelerating their online campaigns.
RobinGupta.co offers online marketing services, including SEO, SEM, content writing, web design, web and blog development as well as social media networking management. And, now the firm has launched new backlink building packages especially designed to cater to needs of website owners who are terrified by flurry of Google's algorithmic updates.
Robin Gupta also provides creative services like Niche Blog Reviews, Guest Posting Service, and professional copywriting services. With social media sharing technologies and latest SEO strategies, the company can improve any brand or product's online presence and have a positive impact on sales pretty quickly.
With powerful backlinks, and strong social presence, it's easy to garner attention of thousands of potential clients within a matter of few days. High quality, informative content always helps in increasing visibility and rank in search engines, such as Yahoo or Google, and Robin Gupta's team has been delivering impeccable content writing services to its clients for a decade now.
With the power of a strong in-house SEO team by its side, the firm is now offering advanced backlink building services to rule out a possibility of Google Penguin or Panda slap.
Proper optimization and selection of the keyword can not only help a website rank well in the search engines, but also create authority in its niche. And, Robin's SEO packages have been known to be totally white-hat and trouble-free, which means that there's no likelihood of a Penguin penalty due to poor quality of backlinks.
A well-optimized website stays on top of SERPs for longer term, while pay-per-click (PPC) marketing fetches only immediate returns, and all the benefits vanish when the campaign is halted. And, PPC doesn't help too much in long term branding approach, not to mention the high cost involved in the process.
SEO can give any brand a very high exposure in global markets for a moderately low cost. The key to right SEO is that all incoming and outgoing links should be analyzed carefully, and all pages of website should be properly optimized and made accessible to the search engines, in order to get a website indexed, and ranked high in SERPs.
And, the latest link building packages offered by Robin Gupta are not only affordable, but work as a complete online marketing and branding solution for any firm looking to market its products or services on the Internet.
Traffic is the mediator between sales and brand awareness and once the marketers achieve good results, site automatically starts receiving more clicks, which create higher chance of sales. In short, SEO is an extremely cost effective form of online marketing, offering more value for money.
Keeping the latest Google algorithm update in mind, RobinGuota.co mainly focuses on the quality of content, pushing the websites with rich and informative material and a great visitor experience to the top of Google SERP rankings.
About the company
RobinGupta offers complete internet marketing services and optimization of the following products: blogs, website, logos, promotional events, and social networks (Twitter and Facebook).
RobinGupta offers basic as well as advanced SEO packages, which are suitable for any business, be it start-up, medium or a large business, looking for cost effective SEO solutions for promoting products online.
Find all the information on the official website http://www.RobinGupta.co