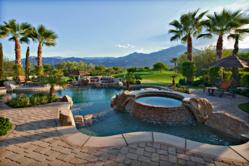 The Palm Springs area still has that great small town feel
La Quinta, California (PRWEB) November 05, 2012
The Palm Springs Real Estate Market and the Phoenix area both have abundant palm trees, golf courses, mild winters, beautiful mountains and many great communities to choose from. If you are new to either area you'll want to get out of the resort or rental home that you are enjoying and take a drive around.
4 Million or 400,000 People?
Phoenix is the 14th largest metro area in the country with over four million people. In contrast, the Coachella Valley, which some people call Palm Springs, is estimated to have a population of about 400,000. Eight cities in the Phoenix metro area have over 100,000 residents.
Many visitors find the Palm Springs area just seemed more relaxed with more of a small town atmosphere that's still a short drive from major metro areas like Los Angeles, Las Vegas, San Diego and even Phoenix.
Comparing Air Quality
The Phoenix area was ranked in 2010 as having the most polluted air year-round in the United States. The Phoenix Sun® Newspaper nicked the Phoenix area "Valley Of The Smog! The Palm Springs area with considerably less traffic offers much better air quality. To be fair, Palm Springs gets the occasional dust storm that can impair air quality, but usually nothing close to the massive dust storms that hit the Phoenix area once or twice each year.
Both Palm Springs and Phoenix now offer direct flights from many cities in Canada and the U.S., although Phoenix will always likely have more flights since it has ten times the population. Both areas offer numerous nearby attractions within a fairly short drive. If you're looking to visit a nearby ocean beach however that would be Palm Springs which is a short drive from California's beaches.
Similar Property Taxes
Most property taxes in Palm Springs are valued at 1.25% of the current property value. Recent Phoenix property tax rates ranged from .80% to 1.50% of property value.
In the end it really comes down to personal preference. Small town resort feel or larger metro area? People new to both areas should consider spending time in both locations and making sure they get out and explore the areas.
About Sheri Dettman & Associates
Sheri Dettman & Associates is associated with Luxury Homes by Keller Williams International, the second largest residential realty company in North America. Sheri completed 74 sales transactions in 2011 in golf and country club communities throughout the Palm Springs area and in all price segments. Additional information about Palm Springs area real estate can be found at: http://www.YourResortHome.com