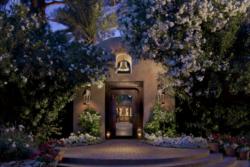 A Truly Magnificent Estate;
Sandra Baldwin
Phoenix, AZ (PRWEB) November 03, 2012
The Most Romatic Home in America, as voted by AmazingDwellings.com, is now available for sale.
The home, located in the Bilmore Area of Phoenix, Arizona is exclusively represented by Sandra Baldwin of Russ Lyon Sotheby's.
Recently, Amazingdwellings.com named Villa Il Segreto, the Arizona Biltmore-area home, as the most romantic home in America and Fox 10 News, KSAZ-TV in Phoenix, featrured the home in its evening broadcast.
According to Baldwin's website, Il Segreto ''The Secret'' - Romance of days gone by is an understatement. Designed by noted architect, Robert T. Evans in 1935, and updated by published designer Kristin Austin-Jacob, this classic european style adobe villa with hand-plastered walls and glorious materials is a true classic. Every room has its own courtyard so that indoors and outdoors blend perfectly to create a beautiful setting. The home has been renovated and updated without compromising its original integrity and done with impeccable taste. The grounds are magnificent, all 2 plus acres with secret gardens. Built As The Original Private Residence of Famed Architect Robert T. Evans, Hollywood Stars, Presidents, and Senators have visited this magnificent estate and the home and its gardens have been featured in numerous periodicals, books television shows, and magazines.
About Sandy Baldwin:
Over a billion dollars. Since Sandra Baldwin began her stellar career in luxury home sales in 1982, she has recorded over a billion dollars in sales. Sure, there are quite a few "Million-Dollar Producers" out there. There are scores of "Multi-Million Dollar Producers" too.
For the past two decades, Sandra has been her company's most productive agent. She has been ranked as high as 7th internationally out of tens of thousands of real estate agents. Sandra has also been recognized by both the Phoenix and Scottsdale Board of Realtors for lifetime achievement. As part of the Baldwin Team's efforts to offer our clients the highest quality real estate marketing and purchasing system, we have helped establish the GLOBAL REAL ESTATE MARKETING NETWORK. This international strategic alliance is a unique affiliation of some of the world's top luxury real estate professionals. These agents, at the pinnacle of their profession, have banded together to put in place an innovative networking system in order to create a high quality of service for both buyers and sellers, unprecedented in the luxury real estate marketplace.
The group uses their unparalleled marketing and negotiating expertise to serve all their clients better than any one of them could alone. Together, this Network can provide personal direct marketing to an exceptional base of worldwide clientele. Furthermore, they can provide an opportunity to facilitate purchases in a way that ensures a quality experience anywhere on the globe.
As a founding member of this prestigious group, Sandra Baldwin has been able to increase the Baldwin Team's effectiveness in ways the Arizona real estate market has never seen.