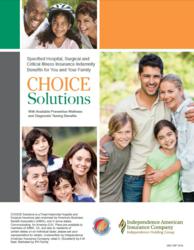 We remain overly committed to consumer driven health solutions we are extremely excited about the launch of our new Choice Solutions Series...a plan with variable choices so the consumer can determine the precise solution that is best for them...
Tampa, FL (PRWEB) November 05, 2012
Independent Producers of America, LLC (IPA) and its "Good News Crew" announced the release of a brand new innovative product offering for local markets. CHOICE Solutions, group fixed hospital indemnity health insurance, is designed specifically for individuals and families looking for affordable, specified hospital, surgical, and critical illness insurance indemnity benefits that help protect against covered medical expenses resulting from hospitalization, surgery, maternity, chemotherapy and radiation therapy services. Insurance under CHOICE Solutions is underwritten by Independence American Insurance Company (IAIC). Both IPA and IAIC are members of the IHC Group.
This past week IPA conducted a nationwide training on this product, and the feedback from its insurance advisors was extremely positive and full of excitement. Some of that feedback included:
"This new plan sounds great, I can't wait to start selling it" R. Miller
"This product is so easy to understand." K. Weathers
"Great product! Lots of bells and whistles we didn't have before" R. Huggins
Some of the "bells and whistles" that these testimonials from IPA's insurance advisors are referring to include but are not limited to, a zero deductible option, benefits that are paid the same regardless of network participation, critical illness coverage included in every plan with the ability to acquire higher amounts for all family members, maternity coverage, no calendar year or lifetime maximums on certain benefits, ambulance coverage including air, ground, and water, just to name a few. In addition, this plan has simplified underwriting, meaning more people can qualify for coverage on a standard basis, even Type II Diabetics that fall within the normal height and weight guidelines.
Sondra Bradley, IPA National Training Leader, comments, "We feel this product will make a significant impact for our sales advisors as well as the local communities they serve. This plan is designed to create a win for everyone. It's a win for our marketplace customers – they now have an affordable option that offers great benefits, and a win for our sales advisors earn a steady and significant income stream, because we feel the persistency on this plan will be long lasting and all components of the plans are commissionable."
David Keeler, IPA President and Chief Operating Officer comments, "While we remain overly committed to all of the consumer driven health solutions that we provide today, we are extremely excited about the launch of our new CHOICE Solutions insurance benefits. With the design being centered on the input we have received from our insurance advisors and leadership, and as importantly, the marketplace consumers they represent, we have delivered a plan that is in fact just that – a product with variable choices so the consumer can determine the precise solution that is best for them and their families. It is straightforward, concise, and specific. This provides the consumer with the protection comfort they expect and deserve while also providing our advisors a competitive advantage solution they can take great pride representing accurately."
About Independent Producers of America, LLC (IPA)
Independent Producers of America is a national marketing organization that distributes major medical insurance plans and other health insurance plans and consumer benefit membership programs across the nation. IPA's trained professional sales associates, referred to as the "IPA Family," provides information and a product portfolio that can meet the needs of most small business owners and self-employed individuals and families. Headquartered in Tampa, FL. IPA is accredited and has an excellent reputation with the Better Business Bureau (bbb.org) and is a member company of The IHC Group.
About Independence American Insurance Company
Independence American Insurance Company (IAIC), a member of The IHC Group, is rated A- (Excellent) by A.M. Best Company, a widely recognized rating agency that rates insurance companies on their relative financial strength and ability to meet policyholder obligations. (AN A++ rating from A.M. Best is its highest rating.). In business since 1973, IAIC is domiciled in Delaware and headquartered in New York. IAIC is licensed to conduct business in 49 states and the District of Columbia. IAIC products include: pet insurance, short-term health, employer medical stop-loss, provider excess loss, small group major medical and major medical for individuals and families. Product availability varies by state.
We encourage you to visit us on the following social media sites:
Facebook: Simply search Independent Producers of America, LLC (IPA), IPA Family, and IPA Wisdom.
YouTube: TheIPAFamily and IPAWisdom
Twitter: Subscribe to us @IPA_Family and @IPAWisdom