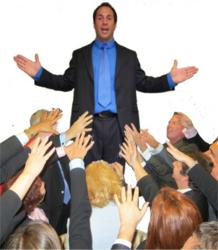 Live your dreams.
Pittsburgh, PA (PRWEB) November 07, 2012
This just in, Dr. Mike reveals two of his most talked about secrets for the first time ever. Dr Mike explains, "how you never have to count another calorie again and still look like you always wanted to."
Dr Mike Raczkowski is being heard all over the world and is becoming more popular by the minute. His proven methods are being talked about and utilized more than ever and the success stories are just pouring in.
Dr Mike says, "counting calories is a complete waste of time. What is the point of counting calories if you are eating food that not only has little to no nutritional value, but is also loaded up with chemicals? If your body is toxic and/or acidic you are not only going to produce and store more fat, but also develop disease."
Nutrition is one of the five key components to keeping the human body healthy and running at 100%. Interesting enough nutrition is one of the most researched and sought after topics in the health world. The reason for this is the fact that there is so much information out there and so many self proclaimed gurus, people are just plain frustrated and confused.
Today let's get back to the basics and discuss how to eat and never count another calorie.
First topic is red meat. There is so much press on red meat. Is it good, isn't it good. What is the deal already? Well here is the first secret so get ready. Red meat is healthy as long as it's the right kind of meat. The meat must be grass fed and raised naturally meaning no antibiotics and hormones. One of the most important reasons to eat natural grass fed beef is, it has the optimal omega 6 to omega 3 ratio which is 4:1. This is the optimal omega ratio for proper body function.
Last but not least are vegetables. More and more people are eating less and less vegetables. This is a serious epidemic. Eating more vegetables will not only help you lose weight, but they will also provide the body with proper fuel to run at optimal levels. There are so many benefits in eating right let's just say the body obtains overall health for time purposes. 50% of your diet should be green and raw if possible.
The human body is made up of cells and requires certain specific valuable components of life. If these components are not met then the cell becomes abnormal. Now the body has the ability to heal, but year after year the body becomes weak and diseased.
Dr Mike says "putting these two secrets into practice not only helps you reach a higher level of health, it also change's the way you feel and the way your body functions."
To learn more about these two nutritional secrets above click below where it says nutrition.
Become part of Dr Mike's health community by joining one of his membership opportunities and receive full access to all of his highly sought after products and videos.