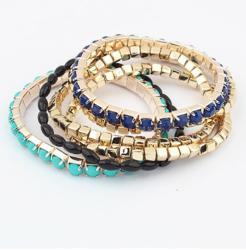 (PRWEB) November 04, 2012
With the Christmas' coming, Hijewelryshop.com, a leading fashion jewelry wholesaler, is launching a fashion necklace promotion from Nov. 1 to Nov. 30, 2012. All the online customers for fashion necklaces can get a discount when checking out, up to 70% off.
There are three thousand of trendy necklaces in the promotion, mainly including 925 silver necklaces, alloy necklaces, crystal necklaces, agate necklaces, coral necklaces, feather necklaces, jade necklaces, pearl necklaces and many other material necklaces. Customers can find the styles they like easily on the page of Hijewelryshop.com.
The necklace has been one of the most important accessories for women to assist them to acquire a complete look. Hijewelryshop.com has obtained their authority and respect in the jewelry industry for its business of wholesale necklaces. Their necklaces look elegant when paired with any other outfit.
"The Christmas is at the corner, and this is the most important time for our business, because there will be a huge demand in this period. We offer all customers with quality jewelry at wholesale prices, and hope they can have a happy festival time. Our fashion necklaces can help girls to become more attractive." Said, Christy, a co-founder of Hijewelryshop.com.
Christy emphasized, "If you plan to buy fashion necklaces, you should not miss the great chance we offer. A wide range of necklaces is available in now. However, please don't forget to leave your correct contact details when you order, we don't want to send our product to a wrong address at all."
About Hijewelryshop.com
Hijewelryshop.com is a professional fashion jewelry manufacturer and wholesaler. With eight-year experience and a vast knowledge of craftsmanship, Hijewelryshop.com focuses its wholesale strategy of fashion jewelry, and customers can always buy jewelry at acceptable low prices.
To learn more about their stunning collection of fashion and costume jewelry, please visit http://www.hijewelryshop.com/