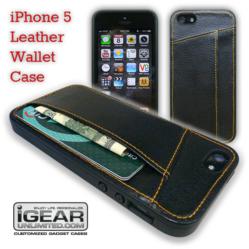 The iGear Slim Leather Wallet Case is unlike any other iPhone 5 case on the market... Someone like James Bond would really appreciate this phone case.
Chicago, IL (PRWEB) November 07, 2012
The new Slim Leather Case is a multi-purpose wallet-in-a-case made for the iPhone 5, something James Bond would surely love. While it doesn't hold quite as much stuff as a full-size wallet, it's excellent for those short trips or weekend errands when a fat wallet in the back pocket is pure overkill. The main feature, of course, is the leather pouch on the back of the phone case. Nicely stitched and affixed on a sliding back plate, this case comfortably holds a couple of credit cards and some cash. A soft-touch rubberized black bumper frame offers excellent protection around all four sides and corners of the phone, while the leather back plate protects the entire back.
The iPhone 5 is taller and thinner than the previous generation, yet the vast majority of cases on the market add lots of bulk to the phone, defeating one of the most important features of Apple's new gadget. The Slim Leather Case solves this problem with advanced engineering and materials, combining beauty with functionality.
"The iGear Slim Leather Wallet Case is unlike any other iPhone 5 case on the market..." says Jimmy Sun, president of iGearUnlimited.com. "The case has a stylish look, offers full-body protection for the iPhone, while doubling as a convenient wallet."
The Slim Leather Case can be ordered from iGearUnlimited.com for immediate shipping. Price at only $39.99, it deserves a spot on anyone's holiday shopping list.
About iGearUnlimited.com
iGearUnlimited.com is powered by Sunrise Digital, an Inc. 5000 company established in 1988 and employs the most advanced equipment and technology, such as G7-certified HP Indigo and UV flatbed presses, and digital die-cutting, to create best-in-class products. A privately-owned enterprise, the company is based in Chicago and sells products worldwide.