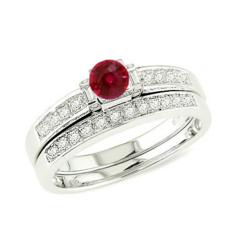 Garnet rings when paired with diamonds look very beautiful and extraordinary
(PRWEB) November 05, 2012
Gemstone rings can be on the expensive side when it comes to engagement rings. However, garnet rings are known to be less expensive, as opposed to other gemstone rings such as rubies or diamonds. For this reason, in addition to the fact that garnet red is a beautiful deep color, garnet engagement rings have become very desirable. JewelOcean presents new additions to its cheap garnet rings collection, grabbing the attention of many new customers around the globe.
Garnet has been used to make gorgeous jewelry for over 2,000 years. It is believed that garnet gemstone rings keep both men and women away from evil influences. This, in turn, results in a happy marriage. Garnet has a beautiful deep red color, similar to ruby red. However, garnet is much more affordable. This is why garnet continues to become more popular and accepted in the world of fashion.
JewelOcean's selection of garnet engagement rings for women is vast, with many options to choose from. There are styles for every woman's tastes, as well as designs to suit any occasion. Garnet rings can be used as engagement rings, promise rings, wedding bands, and much more. Pairing garnet with diamonds is also very popular, since the colors nicely complement one another. JewelOcean's garnet engagement rings are only available to be made with sterling silver, since the colors go together perfectly.
Silver bands are made with red garnet gemstones, allowing the customer to appreciate the complemented colors. JewelOcean offers the cheap garnet rings to be made with other gemstones, as well. This could mean the silver rings are made with garnet, in addition to citrine, diamonds, or peridot. The contrasting colors will be admired by many. Designs of the garnet engagement rings range from circular patterns to square garnet gemstones to heart shaped rings.
JewelOcean's cheap garnet rings are appreciated by many women around the world, since they are affordable, but at the same time still beautiful. The prices on JewelOcean.com vary, depending on the style of ring chosen. Starting from as low as $139, the prices only reach as high as $310. For couples with a low budget, garnet engagement rings are the perfect choice, since the price range is so low. For customers with an even smaller budget, it is possible to put a chosen garnet ring on layaway payments, meaning the customer can pay the total amount over a period of six months. This allows customers to put the ring on hold, but guarantee that it will not be sold to someone else.
JewelOcean, a leading online jewelry provider, specializes in providing the highest quality gemstone rings to its customers. Gemstone rings, and more specifically garnet rings, are sold on the company's website for discount prices. Along with the garnet ring comes a certificate of authenticity. For more information about purchasing a garnet engagement ring, visit the website at JewelOcean.com.