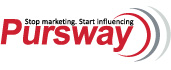 We are pleased to have been chosen to participate in this prestigious competition," said Ran Shaul, Co-founder and Executive Vice President Solutions at Pursway
New York, New York (PRWEB) November 05, 2012
Pursway, Ltd. announced today that it has been selected as a finalist for Ad:Tech New York's Start-up Spotlight Series. Pursway was one of four startups selected from hundreds of applicants to compete in the Gap Shopper Marketing Challenge on November 7th. Participants will present their innovative shopper marketing platforms to a panel of judges from Gap. The winner will receive the Ad:Tech Innovation Award as well as an opportunity to pitch their product in-house at Gap.
"We are pleased to have been chosen to participate in this prestigious competition," said Ran Shaul, Co-founder and Executive Vice President Solutions at Pursway. "Pursway's offerings provide marketers with a breakthrough capability to measure and monetize social purchase influence. Our PIVO Index gives retailers an effective way to target the influencers in their customer base and harness their ability to drive revenue. Our retail customers typically see dramatic improvements in the ROI of their direct marketing campaigns through leveraging the influence effect. We look forward to explaining to the Ad:Tech audience how our technology could be applied at Gap."
About Pursway
Pursway empowers consumer-facing organizations to close the gap between how they market and how people buy. The Pursway patent-pending technology enables companies to identify, measure, and impact how opinion leaders shape their followers' purchasing decisions. Using Pursway's big data analytical solutions, leading global organizations in telecommunications, retail, and financial services are realizing 5-10x improvement in the ROI of customer acquisition, cross-sell, and churn prevention efforts.