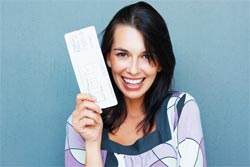 This APP and email alerts has paid for itself many times over.Best travel dollars I ever spent.
Sarasota, Fl (PRWEB) November 06, 2012
A new iPhone APP and website delivers valuable travel information what flights are overbooked right to travelers fingertips. Passengers now find out about what flights may produce free airline vouchers valued at least $400.00 or a lot more.
FreeFlightVouchers.com enables air travelers to find out exactly what flights are overbooked and assists them to make the reservation to capture the profitable opportunity.
"We are currently seeking passengers that want to give up their ticket for a future flight"....
...are familiar announcements from airline employees and gate agents.
Its a fact! All airlines "overbook" hoping not everyone shows up. Airlines also like money and it turns out that the best way for airlines to make money is to ensure that there are as few empty seats on a plane as possible.
Airline issue free travel vouchers when a person doesn't show up for a flight, the seat is left empty and an empty seat is a lost opportunity for revenue. As a result of this conundrum, airlines employ fancy statisticians to figure out how many seats the airline needs to overbook just to make up for the no-shows.
Unfortunately, those statisticians aren't fortune tellers and sometimes (ok, a lot of times), their figures are off. When the figures are off, it's still a better deal for the airline to give you a $400 travel voucher and put you on their next flight than it is to risk letting a seat fly empty.
FreeFlightVouchers.com's APP and services deliver flight information and options that enable air travelers to identify what flights have the highest "probabilities" to provide a Free Airline Travel Voucher. FreeFlightVoucher then makes it easy to book a reservation for that flight.
"I all ready accumulated a thousand dollars in free travel vouchers. What a great tool. No other compensation can match those offered by the airlines." Tony Reardon, Atlanta Georgia
So how can you cash in on all of this free travel and generous rewards?
How the APP and services work:
It's easy. Simply type in city and destination, AM or PM flights, and FreeFlightVouchers does the rest. Users get specific "options" and specific flights info to consider.
Air travelers choose the flight with the highest historical probabilities for being overbooked and you may receive a free airline voucher for a future flight or to redeem for cash. The APP even provides a link to the airline website for easy reservations.
The value of airline vouchers today start at least $400 and may be transferable to another party even cash and are generally good for one (1) year. Some airlines even provide two first class tickets worth more than a thousand dollars. International flights vouchers may be for one thousand dollars or more!
"Considering that the airlines provide the largest compensation rewards,we are delighted to provide this valuable information and services at the fingertips of today's airline travelers." Tuck Tucker, Operations Manager at http://www.FreeFlightVouchers.com
A free round trip ticket sounds like a good deal,but the travel voucher is totally the way to go. Travel vouchers,on the other hand, can be used just about any time,anywhere
and the flights you purchase usually earn miles, plus may be transferred for redeemed for cash.
Where else can you get a reward like this? A minimum $400.00 or more just for having this information at your fingertips? And yes they will still put you on the next flight!
"Its the best travel investment I have made. It has paid for itself many times over." Mary J., Miami Florida
With a money back guarantee, FreeFlightVouchers.com makes sense to save today's travelers time and money. After all, the voucher reward is worth at least $400.00 and free future travel.
The fees for the APP is $3.99 for the APP or those without an iPhone may subscribe to FreeFlightVoucher services for only $29.00 to 49.00 a year.
For those without an iPhone, FreeFlightVouchers.com enables travelers to sign up for monthly or annual subscription services that provides subscribers all access to the same valuable travel information from their website.
Subscribers also receive a travel newsletter with travels ideas,resources,deals and specials coupons and offers.
FreeFlightVouchers headquarters is in Sarasota, Florida USA
Tel: 239 250.4920 * email: freeflightvoucher(at)gmail(dot)com for more details