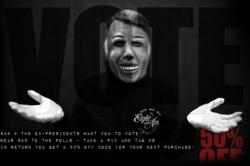 America is what we collectively make it. That's the truth and I want young people especially to respect their right to vote regardless of how they feel about the candidates" - Ray Guilbault
Miami, FL (PRWEB) November 05, 2012
8&9 has a plan to remind their customers how important a presidential election is. It started with a reward incentive for early voters who wore 8&9 Clothing to the polls and posted a picture of their "I Voted" stickers to one of the popular social networks. This Tuesday 8&9 will give a 50% off discount code to all of their fans, followers and customers who wear 8&9, vote, take a pic and post it.
8&9's promo campaign features the Ex-Presidents people will recognize from the movie Point Break. "The discounts are a small way to show customers our position. We want them to vote. It's about participation in the process. America is what we collectively make it. That's the truth and I want young people especially to respect their right to vote regardless of how they feel about the candidates," said owner Ray Guilbault when asked about the discount initiative.
8&9's Fall Collection has several pieces that could be taken as political commentary. One t shirt features an image of The White House crumbled under the words Trust No One while another Rage Against The Machine-esque image features the word Freedom in giant letters printed across the body. Whether you're a conspiracy theorist, sneaker head, streetwear junkie or all three 8&9 will have something for your taste.
Discount codes are issued through email. Details of the contest and participation requirements can be found at 8and9.com/blog
For more information 8&9 Clothing can be found on twitter @8and9 also facebook.com/8and9