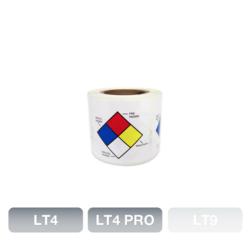 "Since being trained and using the NFPA 704 labels and guide, our entire workplace is more safety conscious and comfortable knowing our hazardous material is marked properly."
Lake Oswego, OR (PRWEB) November 08, 2012
Most businesses including offices, schools, hospitals and health institutes and of course manufacturing facilities use, manufacture, process or store hazardous materials. The NFPA 704 signs and labels are intended to provide basic information to fire fighting, emergency and other personnel. The standard provides a readily recognized, easily understood system for identifying specific hazards and their severity using visual and numerical methods to describe in simple terms the relative hazards of a material. The NFPA Hazard labels, offered through Labeltac.com, act as an immediate warning system for emergency service personnel, addressing health, flammability, instability, and related hazards that may be present, acute exposures that are most likely to occur as a result of spillage, fire, or similar emergencies.
The NFPA 704 is a standard put in place by the National Fire Protection Association and it helps determine what specialty equipment, procedures and precautions should be taken in the event of an emergency. The NFPA diamond shape sign is used to easily and quickly identify risks associated with nearby hazardous materials. Emergency crews, during a crisis, have no time to waste and thus the NFPA sign is a quick solution to determining the appropriate procedures and precautions they ought to take. A warehouse manager commented, "Since being trained and using the NFPA 704 labels and guide, our entire workplace is more safety conscious and comfortable knowing our hazardous material is marked properly."
Labeltac.com also offers a free NFPA 704 Guide showing a color-coded chart making it easy to understand NFPA hazards, their symbols, numbers and meanings. Any business with hazardous material in its workplace should strongly consider using this guide as a training tool in safety workshops. Compliance with NFPA 704 regulations and effectively communicating contents of containers with NFPA labels creates a safer work environment.
For more information about NFPA Hazard Labels or other safety supplies, please visit http://www.labeltac.com/labeltac-4/ or call toll-free (866)777-1360 to talk with a professional representative.