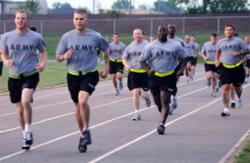 The US Military is an important part of our business, so we offer all military personnel 10% off and, now, two free books on exactly how to get in the best shape of your life
Bozeman, MT (PRWEB) November 05, 2012
"The US Military is an important part of our business, so we offer all military personnel 10% off and, now, two free books on exactly how to get in the best shape of your life" says Rusty Squire, owner of the Heart Rate Watch Company. Squire has authored two books: "How To Successfully Use A Heart Rate Monitor" and "How To Elevate Your Fitness With Strength and Interval Training".
Squire owns a world skiing record, and draws upon 4 decades experience as a nationally ranked cyclist and triathlete to debunk a lot of the myths surrounding getting fit. "One of the first people to read the "How To Successfully Use A Heart Rate Monitor" was a doctor from Washington who called 6 months later to tell me he lost over 40 pounds", says Squire. He adds, "He realized that he had been working out too hard, which seems counter-intuitive for most people trying to lose weight".
Men and women in uniform want to avoid buying heart rate monitors from just anyone because the majority of people selling them cannot even show you how to use one properly. "Our goal is to give you all the tools to succeed", says Squire.
Selling customers a Polar heart rate monitor as a commodity does little to insure their success according to Squire. "Success in fitness has a lot to do with analyzing biometric feedback and then appropriately managing intensity based upon the level of fitness and the goals for the current training block", says Squire.
For men and women in uniform managing training and diet intelligently will lead to much better results. "We could have sold these books online but we figured we would give them away free and the next person that buys a Garmin fenix or other heart rate monitor from our company would be the payback", says Squire.
The books can be downloaded by all military personnel from a banner on the company's homepage at the Heart Rate Watch Company website and there is no purchase required. "The books are free for all military personnel and this is valuable information that has already helped to transform people's lives", says Squire.