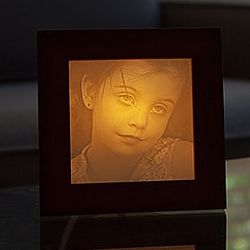 I just wanted to say thank you Light Affection, what an awesome gift you guys have made!! This is truly a unique and personalized gift and I will be sure to pass along my recommendation. Once again thank you, and Merry Christmas.
(PRWEB) November 06, 2012
You have seen personalized photo T Shirts, Mugs, Magnets even Jewelry, but have you seen the Light Affection products?
Based on your photo they will carve a one-of-a-kind carved piece and assemble it into a complete Lamp or Night Light. When the light is turned on the image magically appears.
The unique carving technique is based on the old art form of Lithophanes. The Lithophane artists used to hand-carve their pieces out of wax. A mold was created based on the wax piece and porcelain was poured into the molds. The final pieces were delicate and beautiful porcelain pieces .
Today Light Affection creates one piece at a time, no molds are used in the process. The final carved material is an extremely durable material resembling marble.
The Light Affection lights are perfect gifts for the upcoming holiday season. They are unique, durable, practical and are sure to be the gift everyone will be talking about. Just take a look at some of the emails they have received from their customers.
Light Affection has been gearing up to the Holiday season stocking on inventory and setting up their online store to serve their loyal customers in the most efficient way possible.
The Light Affection products start at $44.95 for the Night Light. They are available in various sizes and frame colors and styles. The usual production time is up to two weeks but expedited production options are available.
To get started on ordering these unique photo gifts go to http://www.lightaffection.com