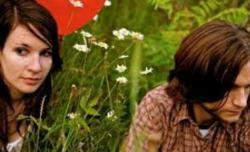 Santa Fe, New Mexico (PRWEB) November 04, 2012
Santa Fe dining institution and reliable entertainment hotspot Cowgirl has been bringing the goods to visitors and locals when it comes to great food and music since 1993. During 2012 Cowgirl has brought entertainment in virtually every single night of the week, much to the delight of both locals and visitors from out of town.From 8:30 to 11:59 p.m., Sunday, Nov. 18, 2012 the Cowgirl has lined-up Americana Folk Rock Psychedelic band Statue of Liberty to come play for the evening. This event is on Santa Fe, New Mexico's premier on-line visitor guide SantaFe.com.
Beginning as a solo project for singer/songwriter Bobby Bradford, Statue of Liberty grew into an acoustic folk rock duo with the addition of Marywood Kate. After recording a demo together in the summer of 2007 the pair discovered a unique musical bond. They continued to write new material over the next three years and in July of 2010 began recording their debut release, The Up State. Working with producer Scott Miller, bassist Ry Dill and drummer Jimmy Finelli, Bradford and Kate spent time at the Institute of Production and Recording in Minneapolis, MN. Upon completion of recording the duo relocated to Des Moines, IA and spent the next year developing their live show while playing acoustic venues throughout the Midwest. On May 27th, 2011 Statue of Liberty released The Up State and began promoting the EP, performing shows throughout the country. After spending the summer on the road, Bradford and Kate relocated to Colorado where they plan to record a follow up to, The Up State this is fall
About SantaFe.com:
SantaFe.com provides Santa Fe and visitors to Santa Fe alike the most current interactive platform for events, music, arts, business, dining, and lifestyle. SantaFe.com is a division of Hutton Broadcasting, located at 2502 C. Camino Entrada, Santa Fe, NM 87507
Contact Information:
Scott Hutton
SantaFe.com / Hutton Broadcasting
http://www.santafe.com
(505) 471-1067 (Media inquiries only, please)
About Cowgirl:
Since 1993 the Cowgirl, which now occupies almost the entire block where it started, includes a restaurant, a billiard parlor, a commercial catering kitchen and several private party rooms. The patio is one of the most inviting summertime venues for locals and tourists alike and the Cowgirl has become a local institution.
Contact Information:
Barry Secular
Cowgirl
319 S. Guadalupe St.
Santa Fe, NM 87501
http://www.cowgirlbbq.com
(505) 982-2565