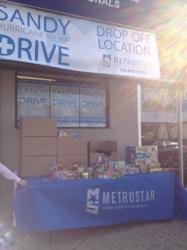 "We are a Brooklyn based company; our employees, families and patients have been directly effected by this devastation, we need to do something!" stated Isaac Newman, Chief Operating Officer at MetroStar
New York, NY (PRWEB) November 05, 2012
In an effort to assist New Yorkers recover from Hurricane Sandy, MetroStar, a privately owned Home Health Products company available at http://www.MetroStarDME.com, will be accepting donations of canned goods, nonperishable items, household items increasing their efforts they have now setup a unique text number to have the MetroStar drivers come and pick up items from those New Yorkers unable to fuel their own vehicles. Text getmystuff to 69302 and a Metrostar representative will call you to schedule your pickup.
As thousands of families in the tri-state area remain without homes, power and transportation, MetroStar is committed to assisting all New Yorkers in their recover and rebuild effort.
"We are a Brooklyn based company; our employees, families and patients have been directly effected by this devastation, we need to do something!" stated Isaac Newman, Chief Operating Officer at MetroStar.
The MetroStar team is currently stationed at their Brooklyn showroom and are ready to accept donations.
Metrostar is now collaborating with Council Member Jumaane D. Williams to ensure that all items are distributed to local families in need. "As tough as the situation has been in East Flatbush and the surrounding neighborhoods, it sadly does not compare to the devastation felt by some around the city. From Staten Island to the Rockaways, New Yorkers are literally picking up the pieces of their lives. In our own borough of Brooklyn, places like Coney Island, Gerristen Beach and Canarsie are struggling. We cannot stand by while our friends suffer, which is why I am proud to collaborate with MetroStar on the collection and distribution of essential donations to help recover from Hurricane Sandy."
Located at 5359 Kings Highway, MetroStar stays committed to serving their community. Offering same or next day delivery on most home health medical equipment and supplies, they are devoted to educating patients on insurance coverage as well as their choice in determining whether renting or purchasing is the individual's best option. To ease the financial burden, MetroStar accepts Medicare, Medicaid and is in network with over thirty HMOs, Insurance Plans and Union Locals.
For more information on MetroStar home medical equipment or this hurricane relief program, please contact Isaac Newman, Chief Operating Officer, at
MetroStar. MetroStar is also available online at http://www.MetroStarDME.com.